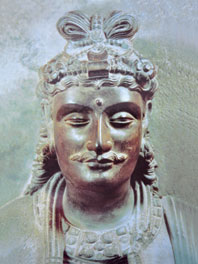 Lord Maitreya, September 13, 2006
Now I'm ready to give you some more information regarding the relationship with your Higher self. Very recently a new Message was given by the Highest Cosmic Council regarding special Divine mercy toward planet Earth. Now, those of you who express the necessary everyday aspiration will be helped in establishing the connection with your Higher self. For this you need to write a letter to the Karmic Board and ask so that, according to the Cosmic Law, you will receive mercy, and the descent of karma that blocks you from establishing connection with your Higher self will be temporarily stopped.
Do you understand ,beloved? This doesn't mean that everybody will have his or her karma descent stopped. No, we are talking about those individuals who have almost reached the level required to achieve the connection with their Higher Self, but some old karma or energy, some quality that hasn't been worked off, is in their way. In this case, you will receive mercy and this part of karma will stop descending so that you can establish connection with your Higher Self. You will fill this connection, and you will be guided by your experience and your senses in the future. And when karma descent is restored, nothing will be able to block you from reconnecting with your Higher Self again.