Dalai Lama's visit to Riga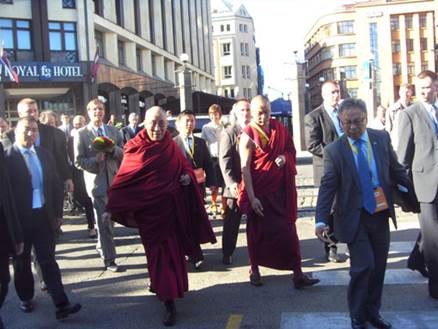 On the 9th of September 2013 Dalai Lama XIV Tenzin Gyatso started His 3 day visit to Latvia.

On that day His Holiness laid flowers at the monument of Liberty and made a speech for the public with the translation of it into Lettish and Russian at the Arena Riga sport centre on "The culture of compassion".

The lecture was visited by more than 5000 people.

Facing the problems of any character, people should solve them by means of negotiations but not by arms and force, said the Tibetan spiritual leader in His com-ment on the events in Syria.

According to His words, the 21st century is to become the century of dialogue, when problems are solved by negotiations.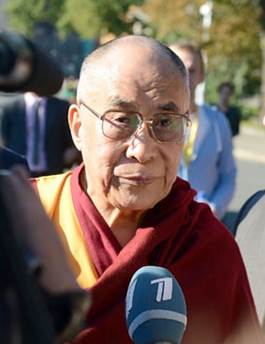 According to Dalai Lama's words, the use of force sometimes seems the easiest way, but in fact it leads to more conflicts. He emphasized that violence cannot bring solutions, they can only appear with the help of non-violent means like a dialog.

During the meeting, the representative of the Lettish society "Words of Wisdom" Veronika Lace presented the book "Words of Wisdom" in English and the book "The sutras of the ancient Teaching" in Russian with the covering letter to His Holiness, the Nobel prize winner and the reincarnation of Bodhisattva of com-passion, Avalokitesvara.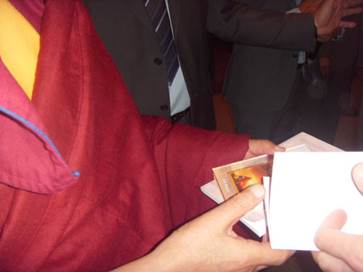 "When His Holiness knew that the Messages have been received by the Messen-ger in Russia, He took the books with care and without any prejudice started to read the letter right on His way. Then He called for the representative of His office in Eu-rope, Thubten Samdup, and asked him to take contacts for a reply."

Veronika Lace