Feedbacks on the Hour of Mercy
In the last issue of the newsletter, we talked about the Hour of Mercy of Mother Mary, which takes place every year on December 8th from 12 noon to 13pm local time. The newsletter provided the necessary conditions for taking part in this significant event.
Continuing the theme of the Miracles of Mother Mary, we are inviting you to get acquainted with the parable of the Most Holy Theotokos.
The Blue Ladder
One day the Apostle Peter came to the Lord, who had entrusted him with the keys to the Gates of Paradise, and in great anxiety and perplexity he said: "Lord, may Your anger pass me by. I notice the presence of people in Paradise whom I have not granted access through the Gates of Paradise. How did they get here?"
They went to the pomegranate grove and saw the Blessed Virgin Mary behind a bush of blooming roses. She was standing on a steep cliff and looking down to Earth.
In Her hands, the Queen of Heaven held a thin blue ladder, which She lowered.<![if !vml]>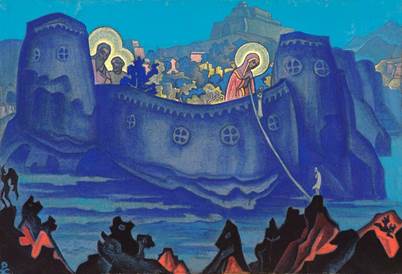 Nicholas Roerich Madonna Laboris

<![endif]>

And from the ground over this cobweb ladder, the suffering, exhausted people, weeping, groaning and fervently pleading, climbed up and ran with tears of joy to the heavenly tabernacles.

With each saved one, the Lady raised up her beautiful hands and prayed:

"My Lord and God! You see, hear, and know everything. In Your ineffable mercy, forgive Me for violating the wise orders of Your most luminous Paradise. But I lived on Earth, and I am a mother myself. Can I refuse a mother pleading for her son? Aint I the mother of all weak, suffering people? Let go of My sin!"

Then the Lord Almighty put His hand on the shoulder of the shocked Apostle Peter and said: "Let's go from here slowly. You and I have nothing to do here."

*   *   *

In the parable, even the Lord himself bowed his head before the kindness and generosity of the Most Holy Theotokos.

Mother Mary really performs Miracles for the suffering souls, for those who ask Her for help and believe in a miracle. This is vividly proven by the stories of our readers, who participate in the Hour of Mercy of Mother Mary every year. Let's get to know some of the reviews.

Stories about the mercies of Mother Mary

Help in the birth of a child<![if !vml]>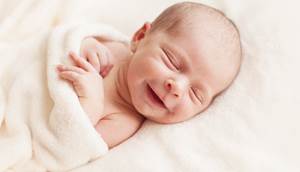 <![endif]>
A year ago, during the Hour of Mercy of Mother Mary, I as usual, had asked for mercy for Russia and for the spiritual development of the Russian people, for the victory of the Forces of Light on Earth and for the acceleration of the evolution of mankind. Almost at the very end of the hour, I had the idea to ask for something personal.
The fact is that my daughter had been dreaming about having a child for a very long time, but without any success. And I asked my Beloved Mother Mary, if it be the Holy Will of God, about the possibility of the embodiment of a bright Soul in our family. Then, probably a month later, while reading the Rosary of Mother Mary, I suddenly felt my heart flutter with unexpected joy. The first thought was: "Baby!" I didn't dare to believe it! And in the spring, the daughter announced that she was expecting a child. There was so much joy, and then the worries during her pregnancy! And it's only now that I've decided to tell about it.
Dear like-minded colleagues, believe with all your soul in the Miracle of God! Do not doubt the help of the Forces of Light! Because we are with God, and with God everything is possible!
With Love,
Olga, St. Petersburg
Help in the sale of the property
... For a long time, my close relative could not sell his two houses. In the Hour of Mercy, I asked my Mother to help him in this matter. And soon he was able to sell his first house. I was present when the buyers arrived, and immediately felt that they would buy this house. It was a young family with a little baby girl, whom they named Maryam. Maryam is the Muslim name of Mother Mary. And I also saw that there was a sticker with roses on the rear bumper of their car. I immediately realized that this was a sign from Above, and I told my relative to sell this house without giving it any further thought, and thanked Mother Mary for such lightning fast help.
It was a bit more difficult with the second house, as there were many ancestral problems associated with it. It was a large unfinished house. And there were two temporary shelters nearby, in one of which, by the will of fate, I moved to live a month before the Hour of Mercy. There was no toilet or water in the temporary shelter. It was necessary to heat the stove every day. But I knew that it was temporary and that I had to continue my meditations and prayer practices here. I deeply believed that Mother Mary would help with the sale of this house, and I felt that this would happen in the spring. In the meantime, I had to be there. And then the long-awaited spring came. I remember waking up, the sun was shining brightly, the birds were singing, and I looked at the altar with the Images of the Masters and heard a voice inside of me saying: "Shivang, get ready, this house will be sold, and you're going back to your home." And a few days later someone bought this house.
I was so happy for my relative. Tears flowed, and I thanked Mother Mary, the whole Hierarchy of Light for everything that had been done. When I was moving, my neighbor came up to me and said that our neighbors, who could not sell their house for a long time either, had sold it.
In addition to this request, I also had personal requests to my Mother, which were all fulfilled.
And after all this, it is impossible not to believe in God and in the power of the Hierarchy.
"Ask, and it will be given to you; seek, and you will find; knock, and the door will be opened to you. For everyone who asks receives, and the one who seeks finds, and to the one who knocks it will be opened." Matthew 7:7-8.
Shivang, Kazakhstan
The miracle of the apparition of the Virgin<![if !vml]>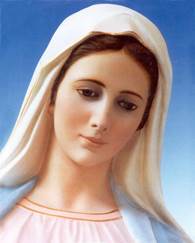 <![endif]>
...In the morning of December 8, 2013, I arrived in a small Ural town [at a family with children: a girl of 10 years and a boy of 7 years]. In the hall of a spacious apartment, a large icon of the Kazan Mother of God had been hanging on the wall for a long time, the housewife and I internally tuned in to the upcoming practice. But then we got distracted by conversations, and literally 5-7 minutes before the beginning of the Hour of Mercy, they remembered what they had gathered for. And while we were quickly putting the finishing touches on the preparation of the room, the girl helped us out: without wasting time, she took a violin and stood in front of the icon of the Virgin, on time. At first she whispered greetings and bows to Mother Mary, then began to read Her own poems dedicated to the Virgin. I was very surprised that that girl, on her own initiative, had prepared herself so thoroughly for communication with Mother Mary. At that time, the boy was in the hallway of the apartment with his father repairing a children's bicycle, and I felt bad that he was not participating with us.  When the girl started playing the violin, the mother of the children, upon entering the room, noticed the smell of roses and whispered it to me with amazement in her eyes.
Next, the girl and I quickly and joyfully spread out the bedspread, sat down on the floor and took turns reading the Rosary "The Hour of Mercy" (earlier that morning at the request of the girl, we had already practiced such a reading of Mother Mary's Rosaries).
After a while, the little brother quietly entered the hall and calmly sat down next to us. We asked if he wanted to participate, the boy silently nodded, took his flute and moved with respect and sensitivity so as not to disturb the solemn atmosphere that reigned in the room. He studied in the 1st grade of the music school and now, after we read the 2nd Rosary,  he began to play the flute diligently, sincerely and to the best of his ability – a very short piece. And as soon as his first uncertain notes were played, Mother Mary appeared in the room right in front of us. My daughter quietly told us about this Miracle in surprise and admiration: "A-a-a-ah! She is here... Standing…" The girl's gaze was directed high up, towards the ceiling of the wide space between the doors of the rooms. After a while, in response to a softly whispered question: "How is She standing?", for a moment she depicted a calmly standing figure with her head slightly tilted to the right, with a gentle expression on her face and a downcast gaze with half-closed eyes. Her right palm was on the heart area. The presence of Mother Mary next to us inspired us. And we managed to read the entire "The Rosary of Mercy."
On this day, December 8, Mother Mary was present among us, She was next to us in a room of an ordinary apartment until exactly 1pm.
With faith, joy, love and gratitude, Margarita.
Ural, Sverdlovsk region
The Miracle of Healing
Among my patients there are those who took advantage of the Hour of Mercy of Mother Mary to ask for healing, and who received it. I will only tell you about two such cases.
Patient L., was 78 years old. She was diagnosed with decompensated heart failure. She only feels good when in a sitting position. In the supine position, she would begin to suffocate. The state of constant shortness of breath lasted for more than 2 weeks. She was very exhausted, because it was difficult to sleep in a sitting position so there was no recovery.
On December 8, L. dedicated a prayer to Mother Mary from 12.00 to 1pm with a request for healing. Her two daughters also addressed Mother Mary with this request asking for the healing of their mother.
By December 11, L.'s condition had improved, she was able to lie down for the first time in 3 weeks without the feeling of suffocation. By December 24-25 her breathing had been fully restored.  Subsequently, she did not suffer from shortness of breath for the next 4 years, which allowed her to breathe easily.
Patient O. 41 years old.  She was diagnosed with giant uterine fibroids. While the normal size of the uterus is up to 50 cubic cm, her uterus size according to ultrasound data from 11/18/16 was more than 1500 cubic cm, which is 30 times (!) larger than normal dimensions.
On December 8, the woman asked for the healing of fibroids and dedicated one hour, from 12.00 to 1pm, to Mother Mary. At the same time she was doing medical fasting and December 8th fell exactly on the 8th day of her fast.
 After she came out of fasting, the woman had an ultrasound done on 12/12/2016 and the size of the uterus was 340 cubic cm. So, the fibroids decreased by 5 times (!!!) and it reached the size of an ordinary fibroid.
By the standards of academic medicine, this is an absolute Miracle!
The level of Miracles occurring on December 8 exceeds our understanding. Believe, ask, pray, and a Miracle will surely come into your Life!
Therapist Sergey. Barnaul, Russia
Assistance in creating living conditions for service
For me, the influence and help of Mother Mary in resolving difficult life situations was felt almost from the very first day of reading the Teaching of the Ascended Masters. As I said before, thanks to my Heavenly Benefactress, I've restored my lost health and saved my life, overcame alcohol and nicotine addiction, and something wonderful happened – we got a beautiful little daughter!
I must say that I did not make a large list of requests for this Hour. There were only very pressing issues and general wishes for the health and well-being of my family. But a few years ago I added another one to these requests. I was working in the corporate world at that time, I saw and understood its sinful nature. Therefore, the request was to help me leave this karmic sphere of activity and work preferably only for God.
After about a year, the business in our company had declined, but it became possible to exist at the expense of previously made investments and that way earn money in the service sector. It doesn't take much time now, and there is an opportunity to do something else – something that fits my soul. Now I work on a permanent basis in our Moscow bookstore and together with like-minded people, I can spread the Teaching of the Masters of Wisdom through the books of Tatyana Mickushina.
Therefore, I feel great gratitude to Mother Mary for Her help and miracles in my life, to all the Ascended Masters, to God Almighty and the author of books Tatyana Mickushina, whose work has allowed us to find the way to God and start following it!
And in conclusion, I want to quote the lines from the second Rosary of Mother Mary "The Hour of Mercy":
"As soon as a hard situation occurs with you, that will be a signal for you that you haven't turned to me for a long time, and I haven't managed to adjust the arisen situation and direct its course to the easiest way of developing. Always remember that God does not want to punish you. ...If you do bad things like small children, then do not forget to repent of them sincerely..."
I hug and love everyone!
Vitaly. Moscow

With other feedbacks about the Hour of Mercy of Mother Mary and comments by Tatyana Mickushina you can get acquainted on the sirius-eng.net ("Feedbacks on Hour of Mercy" ):
-in the form of letters: https://sirius-eng.net/houer_of_mercy/letters.html
-in the form of videos: https://sirius-eng.net/houer_of_mercy/videos.html
If you would like to share your stories about the help of Mother Mary and the personal miracles that happened to you after participating in the Hour of Mercy of Mother Mary, send them to:
*   *   *
We remind you that all the detailed information on how to prepare and how to conduct this dispensation is posted on the special page "To the Hour of Mercy of Mother Mary": https://sirius-eng.net/liki/mmaria_8_december.htm
On that page you will also find many materials that can be used for the Hour of Mercy.
Necessary Conditions for Participation in "The Hour of Mercy"
1. The day and time of The Hour of Mercy – the 8th of December, from 12 p.m. to 1 p.m. (local time.) One hour on union with God.
2. Before The Hour of Mercy, it is necessary to take care of the conditions on the physical plane. Someone may have to take time off of work for 2-3 hours while preparing for the Hour of Mercy and during the time of the Hour of Mercy. Take care approximately 15 - 30 minutes before the beginning of the dispensation so that nothing will distract you during this Hour: arrange with your family, turn off all phones, TVs, and radios.
Do not watch the news on the internet, do not check e-mail, do not talk on Skype and do not visit your social networks.
3. In addition to the appropriate conditions on the physical plane, you must be prepared inwardly. Recommendations for inner preparation are given by T.N. Mickushina:
"During the Hour of Mercy, you must be in a very harmonious state, filled with Love and inner peace. Thus, dedicate 15-20 minutes before the Hour of Mercy to consonance with God within you. You can read your favorite prayers, look at Mother Mary's Image with quite harmonious music playing, or you can read or listen to an audio recording of Her Message.
Stay in silence with your eyes closed for a few minutes and focus on your heart before the start of the Hour of Mercy. Imagine that you are breathing with your heart. Breathe slowly and deeply."
"You must find the state of complete harmony and oneness with God." (Beloved Surya, December 13, 2005)
4. In the Message of Mother Mary from 2007, She is not asking to read 50th Psalm of David 3 times before the beginning of the Hour of Mercy. However, for those who wish to strictly follow the originally given dispensation, you can read it.
50th Psalm of David
Have mercy upon me, O God, after Thy great goodness
According to the multitude of Thy mercies do away mine offences.
Wash me throughly from my wickedness: and cleanse me from my sin.
For I acknowledge my faults: and my sin is ever before me.
Against Thee only have I sinned, and done this evil in thy sight:
that Thou mightest be justified in Thy saying,
and clear when Thou art judged.
Behold, I was shapen in wickedness: and in sin hath my mother conceived me.
But lo, Thou requirest truth in the inward parts: and shalt make me to understand wisdom secretly.
Thou shalt purge me with hyssop, and I shall be clean:
Thou shalt wash me, and I shall be whiter than snow.
Thou shalt make me hear of joy and gladness:
that the bones which Thou hast broken may rejoice.
Turn Thy face from my sins: and put out all my misdeeds.
Make me a clean heart, O God: and renew a right spirit within me.
Cast me not away from Thy presence: and take not Thy Holy Spirit from me.
O give me the comfort of Thy help again: and stablish me with Thy free Spirit.
Then shall I teach Thy ways unto the wicked: and sinners shall be converted unto Thee.
Deliver me from blood-guiltiness, O God, Thou that art the God of my health:
and my tongue shall sing of Thy righteousness.
Thou shalt open my lips, O Lord: and my mouth shall shew Thy praise.
For Thou desirest no sacrifice, else would I give it Thee: but Thou delightest not in burnt-offerings.
The sacrifice of God is a troubled spirit: a broken and contrite heart, O God,
shalt Thou not despise.
O be favourable and gracious unto Sion: build Thou the walls of Jerusalem.
Then shalt Thou be pleased with the sacrifice of righteousness,
with the burnt-offerings and oblations:
then shall they offer young bullocks upon Thine altar.
5. Then you can spend that hour in silent communication with God, meditating on the tests Jesus went through, praising God and reading your favorite prayers, decrees, or Rosaries. You can also sing songs, hymns (for example, songs to Jesus, Mother Mary).
"You can listen to or sing songs dedicated to me, you can read Rosaries and prayers dedicated to me" – says Mother Mary in Her Message.
You can plan ahead of time what you are going to do during your Hour of Mercy. On the pages dedicated to Mother Mary, there are materials that you can use.

The issue was prepared by Elena Ilyina