The books of Tatyana N. Mickushina
have been presented at the Body Mind Spirit Expo!
March 3-4, 2018

Midwest Conference Center, 401 W Lake St.
Chicago (Northlake) IL 60164
The "Sirius: Ascended Masters Messages" booth was an island paradise amidst a sea of 120 exhibitors!
Our booth at the Body, Mind, Spirit Expo looked amazing! The "Sirius: Ascended Masters Messages" booth was an island paradise amidst a sea of 120 exhibitors. When I approached the booth, it felt like I was returning home to be with family after being away on a long journey. There were 8 of us supporting the booth. This is a big family! Everyone was there with an open heart to be of Service to humanity by sharing the knowledge of the Ascended Masters that Tatyana Mickushina has brought into the world. I am so grateful to Tatyana to have the opportunity to share this ancient knowledge that is given for the current generations of people on Earth. I enjoyed basking in the Love of the family of light-workers who were present at the booth, and appreciate the entire Team who has sent us their Love and have contributed in many different ways to make this Expo successful in bringing this knowledge to people who are spiritually awakening to the Truth and who have open hearts.
In a public setting like an Expo, it is very obvious that everyone is at a different level of consciousness. Some people approach the booth and they are immediately drawn to Words of Wisdom and buy Volume 1 to read at home. Some people are familiar with a certain Ascended Master and they are interested in reading their Messages. Some people don't know who the Ascended Masters are – they don't know that these Higher Spiritual Beings exist. Each person has their own interests and their own needs, so a few minutes of personal discussion and a bit of intuition is required to share the knowledge in a way that can touch each person's heart. The booth offers a variety of wonderful books, beautiful pictures of many Ascended Masters, and handouts of several Dictations to reach the hearts of people who are searching for the Truth.
The topic of the presentation "How to Avoid Cataclysms" attracted more than 70 people! Most of the people remained attentive, and I think that the idea that each of us shares in the responsibility for the manifestation of the world cataclysms was surprising for some people (see the Dictations from Beloved Alpha, December 29, 2009 and Elohim Peace, January 4, 2010). The Message of Mother Mary (June 23, 2013) delivers a potent antidote: "God always takes care of you. Let God into your life." The concluding video, "Send out your Love to your Planet," roused the audience to action! Several people commented that they enjoyed the presentation and many people came to the booth.
Being in Service to spread the Teachings of the Ascended Masters is a gift and a blessing, and I am very grateful for this opportunity.
With Love,
Jean
Chicago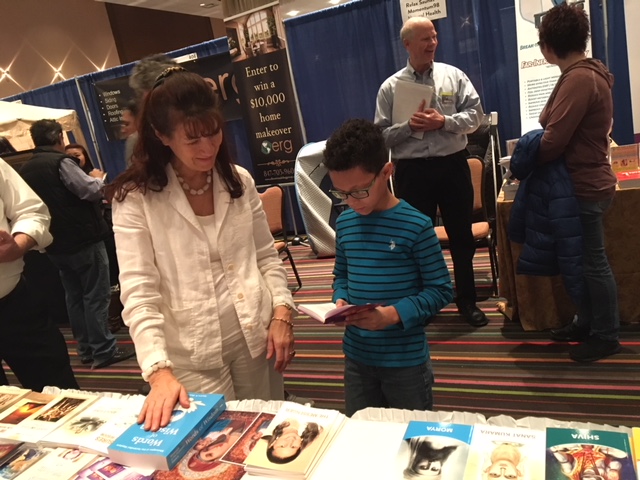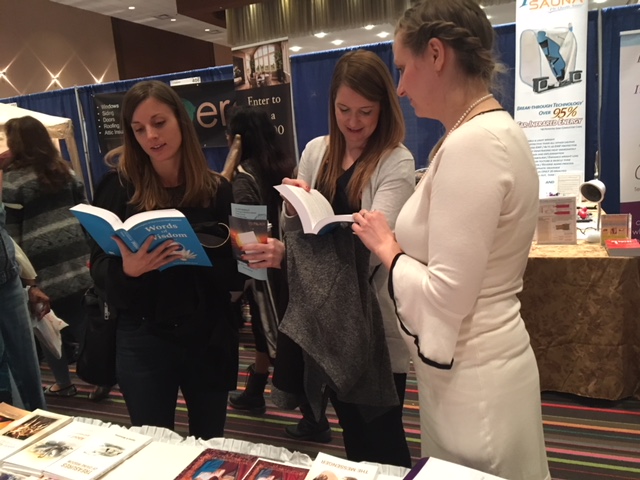 This weekend I spent sharing the Messages of The Ascended Masters and the Books of Tatyana Mickushina with the people at the Body Mind and Spirit Exposition in Northlake, Illinois. It was an uplifting experience filled with love, comradery, peace and a sense of accomplishment.
I was privileged to participate as a speaker in the presentation 'How To Avoid Cataclysms'. Jean and I practiced may hours to feel comfortable and confident with our talk. We did have a few technical problems at the start but our team rose to the challenge and the presentation went well. I believe there were over 70 people attending.
I spoke with many people over the two days and was able to sell several books, but mostly the people were happy to walk away with the information about the Sirius website after listening to us share our knowledge and understanding of Tatyana's mission. Several people had never heard of Ascended Masters and left our booth with a better understanding of the spiritual aspect of life.
Our team worked like a well-oiled machine. We were either in the booth, in front of the booth or on a break but there was always someone there to greet our enquiring patrons to answer their questions and introduce them to the works of Tatyana and The Ascended Masters. Thanks to all our friends who gave their time and talents to this event. I feel blessed to be part of this group and thank God for the opportunity to be of service.
Love and Light,
Rick
Chicago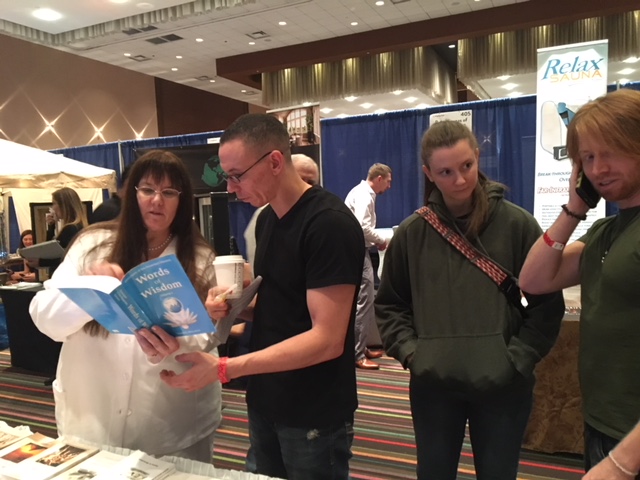 I would imagine that the Expo in Northlake would be the same as always but no, it was different . You could see and feel, that the human Consciousness was raised to a higher level. As a result, more people came to our booth, more books with the Teaching of the Masters of Wisdom were purchased, and a lot of the flyers about our Messenger Tatyana N. Mickushina and the "Sirius" website were given away.
I remember when I was on a break, I met a mother with a baby in a stroller and I had a thought to tell her about Archangel Michael. I invited her to stop by our booth and check out the image. Surprisingly she stopped by later on and the baby was smiling divinely from his shiny heart.
My heart was filled with such a joy when one guest, who was also a vendor on this expo, bought all 5 volumes of "WORDS OF WISDOM". I felt that he needed this Knowledge so he can help and serve other people.
Two days of this expo passed by in the blink of the eye. I was tired but happy to be able to serve the Great White Brotherhood, always learning something new and working on my Dharma and Karma...
Greetings to our teacher Tatyana N. Mickushina and Tatyana Martynenko and to all Light Bearers who are reading these words.
Blessings to the Earth and Whole Universe.
With Love and Light
Kasia
Chicago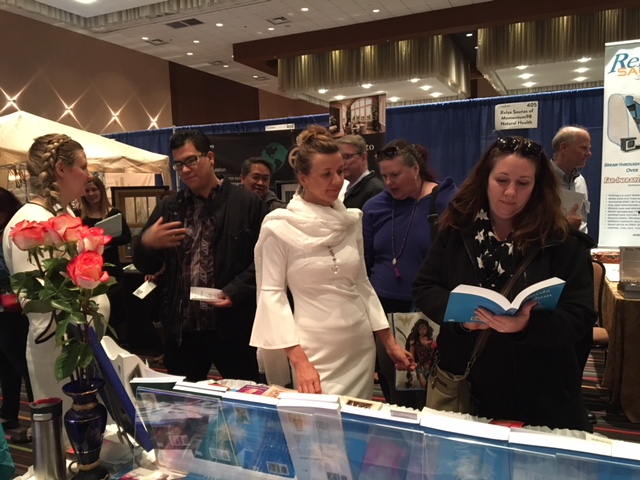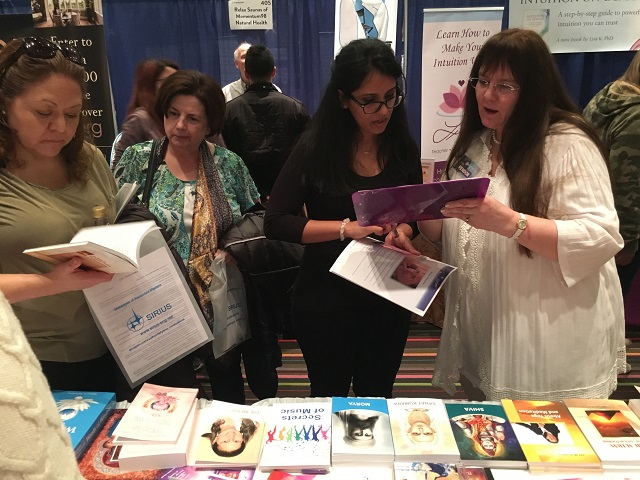 Our exhibition in Chicago went great, in a friendly atmosphere and in a wonderful spring mood!
Our booth was beaming and attracting attention, inspiring many visitors of the Expo with Divine books, beautiful posters, and postcards with images of Ascended Masters!
People were buying the books by Tatyana N. Mickushina, containing the Teachings of Masters of Wisdom, as well as thematic books. They were asking many questions, gladly entering into a conversation.
In our hearts, each of us was asking the Masters for help, so that those people whose souls are seeking this Knowledge and ready to perceive it came to our booth.
With God's help, our stand did not cease for a minute from visitors!
Not all people who had approached us bought the books, but they got information about the Ascended Masters, about the Messenger from Russia Tatyana Mickushina, and about the Teaching transmitted through her to the humanity of the Earth!
With great joy and love, we tried to give our guests everything we know ourselves, realizing that sowing the seeds of this Knowledge in the English-speaking space, we fulfill the Will of God for the benefit of our planet and the future of all mankind!
We were very glad that one of our guests, buying the book "Saint-Germain," said that she was advised to do it by owner of a neighboring booth, who also bought this book from us.
Another visitor (from Latin America) came with his family and without asking any questions, immediately bought the books "Sanat Kumara" and "Secrets of Music." We did not have time to ask them anything, as they quickly left our booth. After a while, this family returned and decided to purchase the full Teachings of the Ascended Masters in the 5 volume series "Words of Wisdom"! When we asked how they found out about the Ascended Masters and about Tatyana N. Mikushina, they said that they had read the "Secret Doctrine" of Helena Blavatsky earlier and found out about Tatyana N. Mickushina from the Internet and by visiting our "Sirius" website. We gladly offered them the book "Good and Evil," and they were happy to buy this precious book without hesitation.
The souls of the people who visited our stand were unique, but they all had one thing in common — the search for Truth and spiritual food!
We thank all our team of like-minded people for their help, love, and sincere support!
From the bottom of our heart we thank God, the Ascended Masters, and Tatyana N. Mickushina for this wonderful opportunity to Serve and to receive this Divine Knowledge!
With Love,
Tatyana
Los Angeles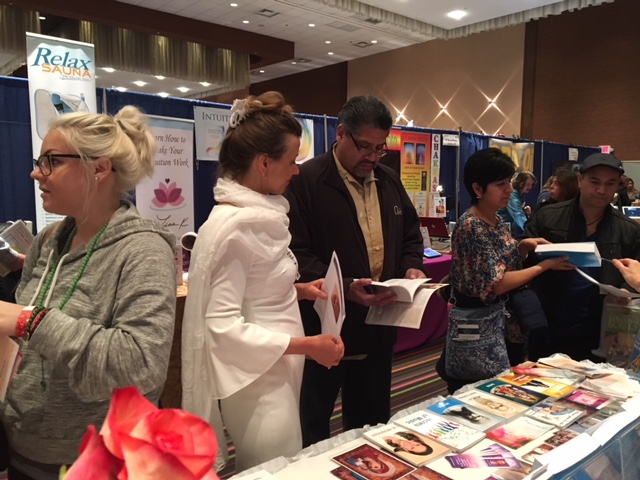 The Body Mind Spirit Expo on March 3rd and 4th in Chicago was very joyful!
The first bright spring rays of the sun cheered our friendly team!
From exhibition to exhibition it feels that the hearts of more and more people are opening up to the Teaching of the Masters of Wisdom!
During the last few exhibitions, we noticed a new trend. People who have already bought and read Tatyana N. Mickushina's books began recommending them to their relatives and friends, directing them to our booth.
The souls of some visitors of our booth were so ready that sometimes they bought books, simply taking them in hand, feeling high energies, at times even without opening them.
The faces of many our guests instantly transformed as soon as they began to read the Messages.
One of our guests, reading the first Message of Sanat Kumara, said that she felt a strong heat in her body. She was extremely surprised by this, because, by her words, she had never experienced anything like this. As a result, this girl happily purchased the book and left her contacts for our weekly Newsletter.
One more situation stayed in our memory. A father and a son approached our stand. For a long time, the boy's father looked through the books with aspiration, then he decided to purchase the book "Secrets of Music", understanding the importance of this topic for the younger generation. He told us that his son dedicates several hours a day to meditation, then he flipped through the book "About Yoga and Meditation" and bought it as well. We talked with this family for a long time. These guests left our stand in a happy and joyful mood, thanking for the light that we share with the world!
Our hearts always rejoice, seeing how the Teaching of the Ascended Masters enters the lives of families!
We express our sincere and profound gratitude to God, the Ascended Masters, Tatyana N. Mickushina for the honor of Service, spreading this Divine Knowledge, capable of saving the souls of millions of people.
Also we thank all the members of our beloved spiritual family for their help, love, warmth and support!
For us, Exhibitions and Presentations, where we have the opportunity to spread the Teachings of the Ascended Masters - is the happiest time, it's always a holiday.
We are preparing and looking forward for our next exhibitions!
With Love, Warmth and Gratitude!
Lina
Chicago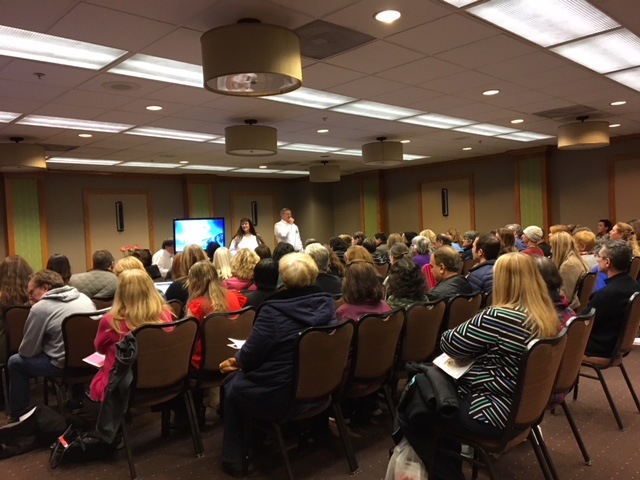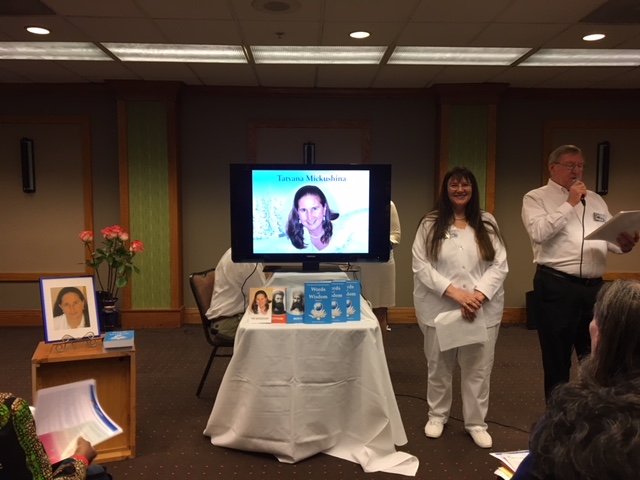 Our 15th "Body Mind Spirit Expo" in Chicago was a great success!
This is our favorite exhibition, because it is the cradle of our entire work on the spreading of the books by Tatyana N. Mickushina, containing the Teachings of the Ascended Masters, here in America.
On the same days of March in 2011, we took our timid steps, participating in this Exhibition for the first time, having only four books by Tatyana N. Mickushina, translated into English!
We were immensely happy that people were approaching us and purchased the books!
Faith, Hope, Love and our confidence in the Sacred Knowledge contained in Tatyana N. Mickushina's books are vitally important today for the inhabitants of our planet leading us along this unknown path.
The seeds were sown, and the years passed like one moment and we see beautiful sprouts: a magnificent, friendly, efficient team of like-minded people has grown up, which now works at Exhibitions in different cities in America and Canada; 23 books of Tatyana N. Mickushina have been published, translated into English, and new books are being prepared for publication. These days, the guests of our booth were repeatedly expressing gratitude for the opportunity to receive this sacred Knowledge by visiting the "Sirius" website in English!
More and more people are showing sincere interest in the Teachings of the Ascended Masters. At this Exhibition our booth was visited by an unprecedented number of guests, and for the first time more than 70 people attended our lecture-presentation in Chicago!
Heaven and Earth will meet and it will inevitably happen!
It is a true Blessing to be able to be in such Service to Life!
We thank God, the Ascended Masters, our Beloved Teacher Tatyana Nicholaevna, Tatyana Viktorovna, our friends and like-minded people from different countries of the world for their Love, support, help and trust!
With Love and Gratitude!
Maria, Galina
Chicago