The books of Tatyana N. Mickushina
at the "Conscious Life Expo"
in Los Angeles,CA, USA
February 2017
It was truly an exciting three days at our first experience at the "Conscious Life Expo" in Los Angeles. We were able to introduce the Messenger Tatyana Mickushina and her books to so many people for the first time; there is no doubt that those who attended the Presentation, stopped by the booth, and took the time to learn about the new Messenger from Russia were anxious to learn more. Many people purchased books and images of the Ascended Masters, and the booth was abuzz with shiny, light beings from morning until night. We will also be adding lots of new people to the email list who gladly signed up for the weekly newsletter.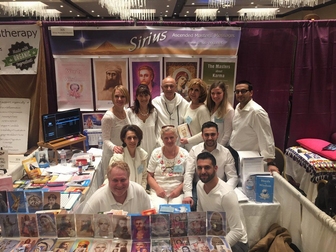 The Presentation was so well attended, there were people standing up and sitting on the floor. It is estimated that over 65 people attended, and quite a few came up after the talk and commented on how much they enjoyed it. We also announced a follow-up Presentation at a local bookstore, which many of those living in the area promised to attend.
This was a tremendous team effort with volunteers coming from Chicago, San Francisco, and also many members from the growing Los Angeles team. Everybody contributed an enormous amount of time, energy, and Love, which was felt by everyone that came by the booth.
We are looking forward continuing the work in Los Angeles and helping as many souls as possible that are truly yearning for this knowledge.
Thanks to the entire team, to Tatyana Mickushina, and all of the Ascended Masters for their Love, support, and direction. We are honored to represent them.
With Love and Gratitude,
Tatiana and Grant
Los Angeles, CA USA
---
The first presentation of the Ascended Masters' Teaching at the Expo "Conscious Life" in Los Angeles was held at a high spiritual and emotional level!
We were pleasantly surprised that many people are already familiar with the Teachings of the Ascended Masters given through the previous Messengers and that such serious books as "Good and Evil" and "Sutras of the Ancient Teachings" were very popular and guests at our booth were buying them with great pleasure.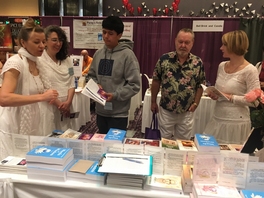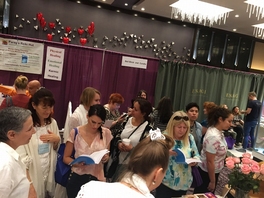 My heart was filled with love when we felt how the hearts were lit for those who first learned about the Teaching and opened the books!
One guest said that among the variety of many existing teachings it is very difficult to understand where the Truth is and that she felt that this is the Truth when she came to us.
Another guest opened the book, put his hand on the Message and said that he felt the energy from the Messages.
A lot of people were saying that our booth radiates a very powerful light energy.
At one moment an interesting thing happened. A woman came up to the booth, and then she stepped back a little, stopped and closed her eyes. She said that she needed to adapt to the energy of our booth. In a few seconds her eyes filled with tears and I had to calm her down for some time.
There were a lot of pleasant meetings with our former compatriots. One guest from my hometown Novosibirsk has studied the history of the Slavic nation for a long time and she was very interested in the series of books "About Russia and For Russia." She gladly bought "Words of Wisdom" and "Spiritual Mission of Russia" and was happy to receive a gift — a book about The Emperor Nicholas II.
This was the brightest and the most unforgettable Expo in my life. There were moments when the Masters' Energies, the Happiness of Service, and Embrace of Love were filling me so much that it made my heart soar!
I am endlessly thankful to God, the Ascended Masters, Tatyana N. Mickushina, and everyone who participated in the preparation and handling of the Expo for the honor and joy of service!
With Love and a low bow,
Lina
Chicago, IL USA
---
What an amazing and unforgettable Expo in Los Angeles!
I was so happy to meet with my dear friends, kindred spirits, and to get acquainted with new participants from the Los Angeles team!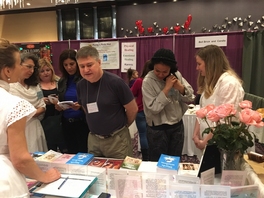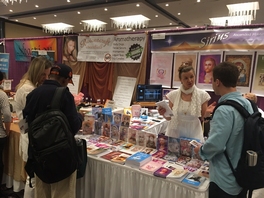 I cannot express in words this huge Happiness, Unity and Responsibility of Service to the whole Life and Ascended Masters.
How many light and seeking souls found the knowledge that they were searching for!
How many young people, who live with God in their Hearts and are already going along the Path with confidence!
I feel a great potential in the elevation of people's consciousness in this place on Earth!
Hugs to everyone!
Let Peace, Love, and Light be with everybody!
With Gratitude and Love to the Messenger Tatyana N. Mickushina!
Julia Romanova
San Francisco, CA USA
---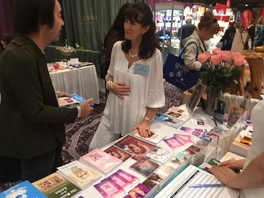 Dear Friends and Supporters!
Our first and so long-awaited Expo in Los Angeles has finished!
It was a great success and the heart of this wonderful place on Earth opened to us and accepted all the Love, Joy, and Light that the books of Tatyana N. Mickushina carry with the Teachings of the Ascended Masters!
On the eve of the exhibition, while we were setting up the stand, suddenly a woman came up to us and upon seeing the images of the Masters, she exclaimed, "Oh! These are our Teachers! It is so good that they are here with us; thank you for inviting them all here!"
And truly, our Teachers were with us all three of these magical days!
At none of the previous Expos did we feel such a flow of Love, Joy, and Light as we felt at this one!
The City of Angels, the translated name of Los Angeles, gathered so many light souls who literally kept coming as a flow to our stand.
The majority our guests perceived the information about the Messenger Tatyana N. Mickushina and about the Teaching of the Ascended Masters very tenderly and with great attention and respect!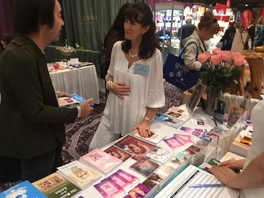 Many people asked about the possibility of Tatyana N. Mickushina's visit to America and meeting with her.
Our dear friend, Levon, and a wonderful group of like-minded people from "A Healthy Lifestyle" participated in the work at our stand with great joy and open hearts.
This long-standing dream of doing an Expo here in Los Angeles with all of us together was fulfilled so wonderfully and beautifully! During these days, our friendship, mutual respect, and love acquired even greater awareness and strength!
The time has changed a lot, and if before we were able to handle the flow of guests and energies with a relatively small number of people working at the booth, now it is becoming more and more difficult to "hold the space of Light."
That is why in our time it is so important to unite, to help and support each other, so that more people will be able to come into contact with this sacred, True Knowledge!
We thank Lord God, the Ascended Masters of humanity, our Beloved Teacher Tatyana N. Mickushina, Tatyana Martynenko, and all our dear like-minded friends from different countries for all their Love, continuing help and support, for the trust, and for this Great Joy from an opportunity to give all our energy to service for the good evolution of our beloved planet Earth!
With a low bow, Gratitude and Love with all my heart!
Maria
Chicago, IL USA
---