Dear friends, we are very happy to have the opportunity to share our impressions of Tatyana Mickushina's book Presentations, which with great success were held in December this year in three American cities.


Los Angeles-December 10th, 2016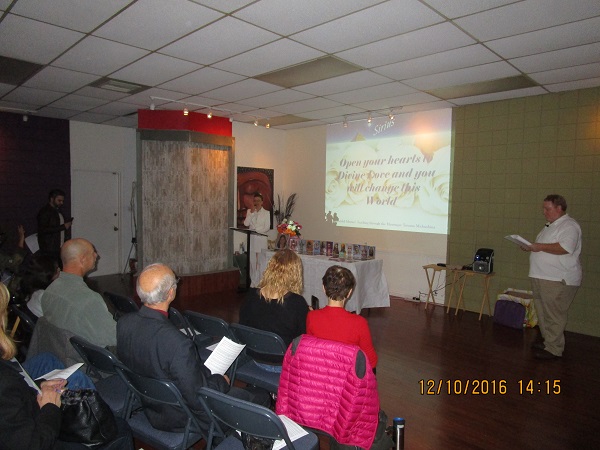 It is always an honor for us to participate in these Presentations and share the Divine Wisdom of The Ascended Masters with others.
It was very important to end the year with a strong intention for spreading the Teaching of the Ascended Masters.
The third Presentation held in Los Angeles was beautifully done. Many people attended the Presentation including some likeminded friends.

The subject "Open your Hearts to Divine Love and you will Change this World" was very well received, and several people attending were visibly moved at a deep level.
It was truly a heart-to-heart Presentation. What can be more fulfilling than Unconditional Love in our lives? Divine Love poured in and opened our hearts.
There were moments of Unconditional Love, especially when we read the Dictation "Open your Hearts to Divine Love." This Dictation was very touching and timely.
During the presentation the atmosphere was tranquil. We concluded with the words, "Let Divine Love be with you every day."

How beautiful the world could be if everybody embodied the Presence of Unconditional Love in their hearts - always.
The new Presentation was visually very pleasing and many people commented that they really enjoyed it.

It was wonderful event and several participants asked when the next Presentation will take place in Los Angeles. We told them about the Conscious Life Expo in February.

Thanks to everybody that helped to create and produce this Presentation.
It is most humbling to present the Teaching of the Ascended Masters in our local area.
These Teachings are needed now more than ever.
We want to thank Tatyana Mickushina and all the Ascended Masters for their boundless care and Love.

With Love and Light to everyone!

Tatiana
Grant


Chicago - December 11, 2016

As in past November, we held this meeting in the Educational Spiritual Center "RUAH", located in one of the Chicago suburbs.
The day was very cold and snowy…the forecast promised a blizzard!
All mass media was warning about the coming danger, and recommended not to leave the house that day.

We didn't have a shadow of a doubt that the planned meeting will happen and that all of us, as organizers and guests of this event will be under protection of Higher Powers!
And that's exactly what happened – the blizzard held off exactly till the end of the Presentation!!!
The topic "Open your hearts to Divine Love and you will change this World" was the best match to our mood and desire to transform the surrounding illusion with the fire of our hearts and bring closer a time when there will be no more imperfections on the Earth!
And Divine Love had truly filled the space, where our unforgettable meeting was held!
An uplifting atmosphere was magically complemented with sparkling Christmas lights!
Before the beginning of the presentation, during the call to Ascended Masters, one of organizers of the Presentation, Rick Wilde felt like Divine Energy had filled all his being! All of us, who made this call together felt it as well!
It happened that many of our guests came before the beginning of the meeting, so everyone had had a chance to get acquainted with each other, which created a warm, trusted, and friendly atmosphere. Representatives of four countries – America, Russia, Lithuania and India – opened their hearts and souls, as they were absorbing the energy of Love and Divine Grace, showering from everything during this event!
At the very end during the video presentation of Lord Maitreya, all the guests turned inward and a feeling of absolute harmony, quietness and goodness filled the room. After some time, a thankful applause was heard!
Then our guests started to actively show interest in the books, Images, and DVD's with meditations. They were also asking when our next meeting will be.
We noticed again that none of attendees were rushing home.

As they were finally leaving, we could feel the peace, love and warmth in their hearts!
We thank God, the Masters of Wisdom and Tatyana Nicholaevna for the honor to be of service to Goodness and human evolution!
We also thank all members of our close-knit team for their help, support and cooperation.
We truly hope that the released Divine Energy will help the World in overcoming the descending karma at the end of the year.
Let Peace, Light and Love fill the lives of every living creature on our beloved planet Earth!

With a profound bow,

Lina, Rick
San Francisco - December 17, 2016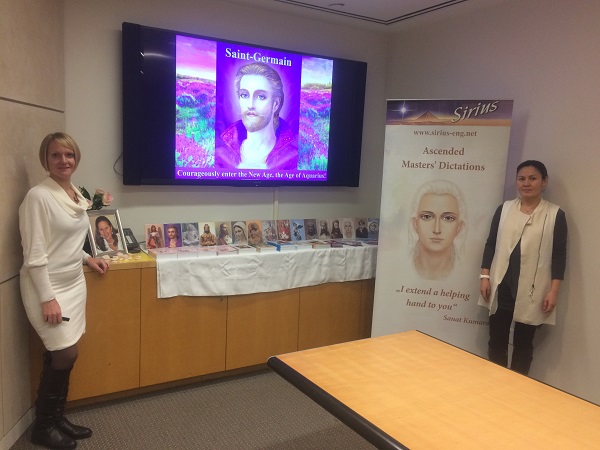 Dear friends,

We were delighted to have our second presentation today about The Ascended Masters' Teaching through Tatyana Mickushina on the topic of "What do The Masters say about America".

Even though we didn't see any new faces, it was still such a great opportunity for us to share this with those who are on this Path already.

The feeling was that this presentation was great practice for ourselves first of all, and also for bringing the Focus of Light to the physical plane.

We felt more confident speaking in front of an audience. The atmosphere was light and joyful. We particularly felt Saint-Germain's presence during the video meditation.

With Love and Light!
Julia and Raushan