Report from Los Angeles: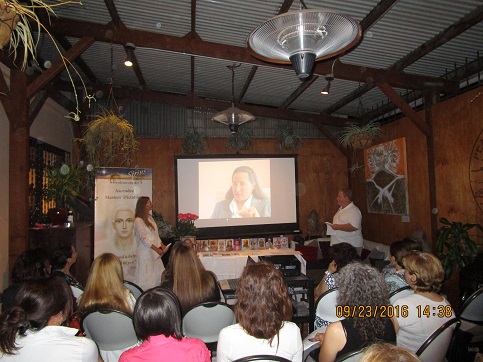 What a wonderful experience it was to introduce the Messenger Tatyana Mickushina and the Ascended Masters' Teaching to the Southern California audience for the first time.

The Mystic Journey Bookstore has a great vibe and there were million year old geodes and amethyst crystals in the room, supporting us through the entire presentation.

Close to 30 people attended including our friends from Glendale, CA (the group Healthy Lifestyle led by Levon Mosinyan) that have been reading the Dictations for a long time.

The audience was very attentive and demonstrated intense interest throughout the entire presentation. The few questions that came up after the event were all positive and showed real interest in exploring the Teaching further. After the presentation, everybody applauded which we took as a sign that this first presentation was very successful.

Sixteen books were sold, and the bookstore decided to keep additional books to put on their shelves.

All in all, it was a joyous event and we feel especially thankful to all who came and lent their support.

Humbly, we thank The Ascended Masters and the Messenger Tatyana Mickushina! We are very happy that our dream came true!

With Love,
Tatiana and Grant
---
Report from Chicago: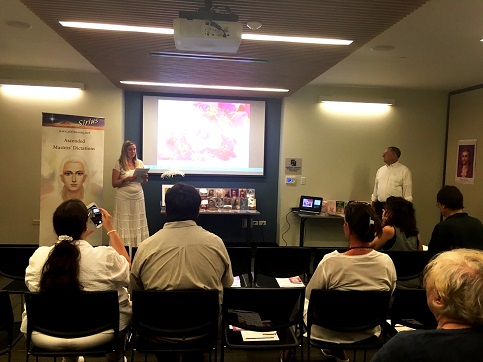 The presentation of Tatyana Mickushina's books, which took place on September 25th in a public library in Deerfield, a suburb of Chicago, went very well.

It feels as if a new stage has begun for spreading the Teaching of The Ascended Masters in the USA through presentations.

During the preparation and presentation itself, we felt the joy of teamwork again! Enthusiasm and inspiration were our constant companions!

Every action, dedicated to the Masters and the Messenger generates a greater desire and increased energy to act, with new ideas for spreading the Teaching!

Besides introducing new people to the Teaching of the Ascended Masters, carrying out the presentation of Tatyana Mickushina's books helped our team to come together, remain vigilant, maintain enthusiasm and stay in a light and joyful state of mind!

We were getting together for a greater purpose!

Also, the current presentation showed areas which require additional work and a more detailed plan for the organization of the next event.

We thank God and the Ascended Masters for the opportunity to serve our beloved Teacher – Tatyana Mickushina, all the people who helped with the successful handling of the presentation and our guests, who participated in it.

This is just the beginning, and a lot of intensive and joyful work is sure to come.
With love and gratitude!
Rick Wilde and Lina Fadina.