«It was a mere stream of open hearts»
Ascended Masters' Books at the NEW LIVING Expo in San Mateo, USA
Books by Tatyana N. Mickushina were presented at "New Living Expo" 2016 April 29 - May 1, San Mateo CA USA
Three wonderful days at our second New Living Expo have come to an end. It is amazing how much easier it was to get ready for this event this year, when we had all the contacts lined up, knew how to talk to people, and what to expect. Three days flew by like one short moment, and I feel very sad to have to part with our like-minded team members who have come to help us at the Expo. This year I could really feel the team spirit and determination of our volunteer group.
<![if !vml]>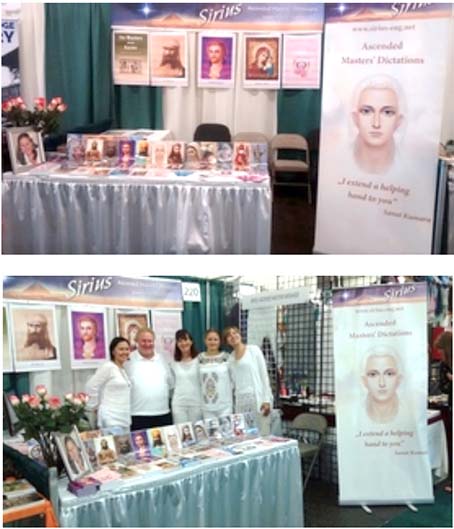 <![endif]>The visitors showed great interest in the Teaching of the Ascended Masters as well. Some people, who had visited us last year, came to our booth again. A young couple told us that they had bought the Words of Wisdom-1 book last year, and since then they had been reading it all the time and it inspired them very much. Another lady, who had bought some books last year, came again and bought the entire series of the Words of Wisdom books in Russian – that is how much they inspired her. There were some people who got attracted to us because of the energy that was emanating from our booth.
The presentation that we gave on the second day of the Expo was very successful. More than 50 people attended the presentation. Many of them returned the next day, bought the books and subscribed to our newsletter. One young man came to me after the presentation and said that several days before that, the name "Saint Germain" came to him during his meditation. After that, someone by chance invited him to our presentation, which was devoted to Saint Germain's teaching given through Tatyana Mickushina. He saw a very deep meaning in this chain of events. He bought the book Saint Germain and got very inspired by it.
Another lady came to our booth after the presentation and said that she had felt the high vibrations during the presentations and that she was very happy to be surrounded by like-minded people, with whom she could share her subtle sensations, which are unfortunately not understood by her family or friends.
People's excitement and curiosity, and their warm welcome inspired me even more. It is wonderful to realize that you are giving people access to the knowledge that their souls need so much, and that this knowledge can change their consciousness, their entire life. At the end of these three beautiful days, I have a sense of fulfillment and a feeling that I was able to touch some people's hearts and plant the seeds of interest in the Teaching of the Ascended Masters in them.
<![if !vml]>

<![endif]>
I would like to thank everyone who had come from far away and was helping us during the expo so tirelessly – Maria Fliman from Chicago, Grant Vospher and Tatyana Sukhomlinova from Los Angeles, and Vitalina Klyushnik from Sacramento. We were also supported and helped by a whole team of aspiring souls across the world – Nesrin Hacioglu, Valeriy Levtchenko, Jean Kana and others – we thank you from the bottom of our hearts! Finally, I express my most sincere gratitude to Tatyana Mickushina for her tremendous work as the Messenger of the Great White Brotherhood, and for me to be able to be a part of this mission of Light.
<![if !vml]>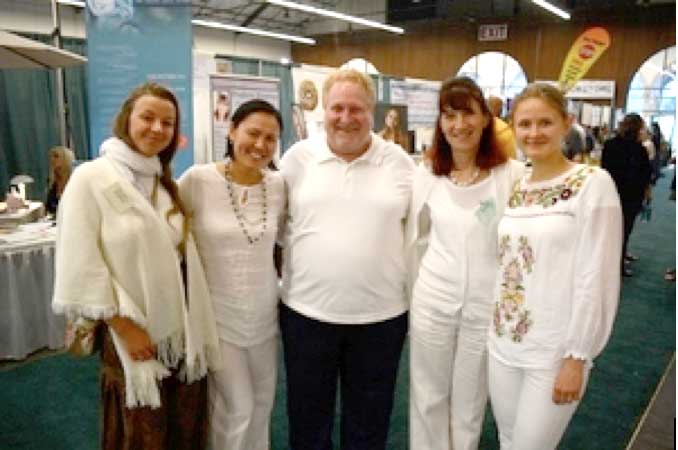 <![endif]>
From San Mateo with Love, Hanna Mityashina
Our second year of participation in the New Living Expo 2016 in San Mateo, California has come to an end. It was truly a celebration for all of us! Three days have gone by so fast and so many people showed interest in the Teaching of Ascended Masters given through Tatyana Mickushina. People are craving this knowledge and asking a lot of intelligent questions, which shows that the collective consciousness is shifting. Our presentation on St. Germain was a big success and many people stopped by at our booth afterwards to buy some books and images of the Ascended Masters.
<![if !vml]>

<![endif]>
<![if !vml]>

<![endif]>
Even some tourists from Europe showed interest in the teaching and were asking for some local contacts in their countries.
I want to express my heartfelt gratitude to all the Ascendant Masters, Tatyana Mickushina, Maria Fliman and all the members of our awesome team, for giving me this opportunity to serve and be part of this wonderful event.
With love, Raushan
"What an exciting Expo this year. The team worked extremely well together and everybody did their best to introduce as many people as possible to the Teaching of the Ascended Masters. Just as last year, we were one of the busiest booths in the Expo. Several attendees walked up and told us that "they were attracted to the booth by the energy and the Light". We had so many people that stopped to pick up and read the books. It is always exciting to see them turn page after page, fully engrossed in the dictations. It was also encouraging to see so many people attracted to the pictures of the Ascended Masters. They would stand in the aisle and walk right up to a picture. They seemed very drawn to many of the images.
The Saturday night talk was also very well received, with over 50 people in attendance. Hanna and Raushan did an exceptional job and you could see the enthusiasm and interest build as the talk went on. Many people came to the booth after the talk to buy books and pictures. The lecture also led to many discussions about Tatyana Mickushina, The Ascended Masters and the Teaching. We seem to have built a very loyal following in the Bay Area, and heard comments like " I bought the books last year and have really learned a lot from them" quite a few times. I particularly enjoyed speaking with several young people that were also drawn to the books, as this is a particular group we would like to have more of a connection with. We are looking forward to hearing about the post-expo talk at East/West Bookstore later in the month. Expos like this continue to be an exceptional way to meet people and spread the Teaching. Thank you for the opportunity to serve."
With Love, Grant
New Living Expo 2016 in San Mateo, which happened to be my very first expo, was a great success.
I started reading Tatyana Mickushina's books a little less than a year ago.
I participated in this event with great love and joy, and received unforgettable experience which inspired me and ignited a bright spark in my hear to continue the work on spreading the Teaching of the Masters of Wisdom given through Tatyana Mickushina for the good of our planet.
I am very thankful to the Masters of Wisdom and Tatyana Mickushina for their selfless work!
Tatyana Sukhomlinova
<![if !vml]>
<![endif]>Our second expo in San Mateo, CA was completed with great success!
One can easily say that the spark of Light and Love that got ignited a year ago on the West coast of America has grown and is now glowing with new strength and beauty!
The warm, friendly and joyful atmosphere in our booth attracted more and more guests to it like a magnet. Not at a single other US expo in which we participated before had there been such a great number of people who showed sincere interest in the Teaching of the Ascended Masters given through Tatyana Mickushina. It was a mere stream of open hearts and souls, yearning to receive the sacred knowledge contained in Tatyana's books.
Many people expressed the desire to meet with the Messenger and asked when Tatyana Mickushina would be able to come to the United States. It became habitual to hear people talking about the energy of Light coming from all of us and from our booth.
Lightness, Joy and Love are the states of consciousness which stayed with us throughout all these three magic days.
Hanna Mityashina and Raushan Akhmedyarova gave a brilliant Presentation of the books for an audience of more than 50 people.
Our expos in America have become a bright example of friendship, mutual help and cooperation, of Love and devotion to the cause.
A truly international team worked hard for this success to become reality.
From the bottoms of our hearts we thank God, our Ascended Masters, our beloved Teacher - Tatyana Nickolaevna, and Tatyana Martynenko for all our like-minded friends from many countries of the world for the help, support, trust and the chance to do such Service!
With Gratitude and Love of all my heart,Maria.