<![if !vml]>

<![endif]>
Ascended Masters' Books
at the BODY MIND SPIRIT Expo
in Chicago, USA
<![if !vml]>

<![endif]>
Our participation at the BODY MIND SPIRIT Expo that took place on February 28 - March 1 was successful and productive as never before!
It was a true celebration of Spirit, Light and Love!
Every time when we participate at the expo, we feel happiness because we have the opportunity to meet such a great number of people within just two days and tell them about the Messenger, Tatyana Mickushina, her books that contain the Teaching of the Ascended Masters, and about the Masters themselves.
We experienced many wonderful and joyful moments during these two magic days. As never before, we felt the support from Above. It was as if our booth were covered with an armor that did not allow any negativity to go through.
I want to share so many moments, along with the wonderful mood and inspiration that we continuously felt at our booth.
<![if !vml]>

<![endif]>
Everybody from our team got together for the expo: Rick Wilde, Jean Kana, Linda Ploch, Tami Gilbert, Linda Kleyman, Pavel Zaborko and Rasa Rimsa.
We also had a new team member, Grant Vospher, join us for the expo.
On the last day of the registration for the Prayer Vigil for World Peace, I received a phone call. When I picked up the phone, I heard a male voice saying, "I have been reading Tatyana Mickushina's books and dreaming about meeting you (those who participate in the Mind Body Spirit Expo). I will be flying over from Los Angeles to join you, support you and help, if needed! That was Grant Vospher.
When he arrived in Chicago and met with us, we felt as if he had always been with us!
Grant had personally met Elizabeth Claire Prophet and lived in the Prophets' house in California for several months in 1975.
When he found the Teaching of the Ascended Masters given through Tatyana Mickushina, he felt the energies that he had been searching everywhere and could not find.
<![if !vml]>

<![endif]>
We all were very glad to be together. Each of us was trying with all sincerity to do everything in order to provide the guests of our booth with as much information as possible, so that they could come in contact with the Divine energy contained in the Messages, and so that love and joy could enter and stay in their souls.
Many people came to our booth and spent a lot of time talking to us, sharing their feelings and thoughts, opening their hearts...
Each of us felt happiness from such association from heart to heart numerous times throughout the expo.
Many of our guests came to us several times, to share something else or to buy another book or a Master's Image.
One of our long-term visitors came again and, pointing at the book Words of Wisdom, said, "This is the best book in my life! Thank you very much!"
It has become traditional to hear from the visitors that our booth and we emanate light and radiance and that is what attracts visitors to us.
<![if !vml]>

<![endif]>
A young man came up to us and said: "I trust you, I trust everything you say even more because you all are wearing white - this is the color of the Ascended Masters. You are all radiant in this white." He purchased some books, took some handouts and brochures, and then came to our lecture-presentation.
Forty people attended our lecture-presentation! The topic Maintaining Inner Balance was chosen deliberately. That is what our Ascended Masters ask us to focus on especially.The presentation took place in a separate hall.
<![if !vml]>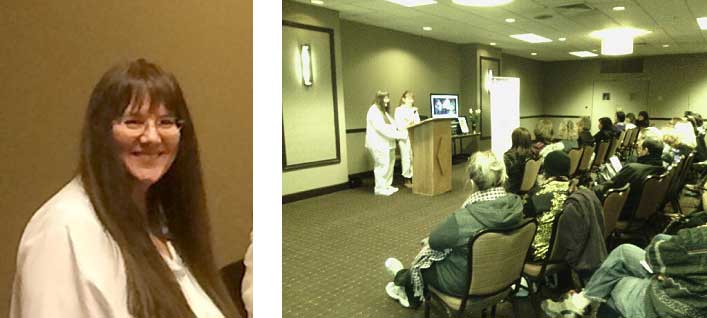 <![endif]>Shortly before the beginning of the lecture, an unusual feeling of peace, happiness, and love arose in my soul. This elevated feeling gave the tune to the entire lecture. Everything went peacefully and joyously; there was not a trace of tension. Our guests were touched by the atmosphere in the room and the information given at the lecture.
After the presentation, many people who attended it, came to our booth and purchased books. Last minute before the exhibition closed, a woman came by, expressed her gratitude for the lecture and said that a lot of things and feelings opened up for her during the presentation...
Our guests looked through the brochure A Path to the New World with great interest. Many of them opened it, started reading through it and then asked if they had to pay for it. When they heard the answer "no", they gladly took a copy. The brochure is very beautiful and our visitors could not believe that we distributed it for free! Some people took several copies of the brochure.
We sold an unprecedented number of books at this year's expo. For the past few years, there had been a feeling that people do not buy paper books anymore, and that they prefer digital books. This exhibit proved it wrong.
This was the ninth BODY MIND SPIRIT Expo, in which we participated. It will be remembered in our hearts forever, just like all the preceding expos.
It is a Divine opportunity to take part in the events of such level, and we realize that very well. We started the expo in spiritual unity, elevated and joyous mood, and with the greatest number of team members as compared to all the past years.
<![if !vml]>

<![endif]>
We thank God, our Ascended Masters, Tatyana Mickushina, Tatiana Martynenko, and all our friends from across the world for their trust, tireless support, and help during the preparation period and during the time of the Expo!
<![if !vml]>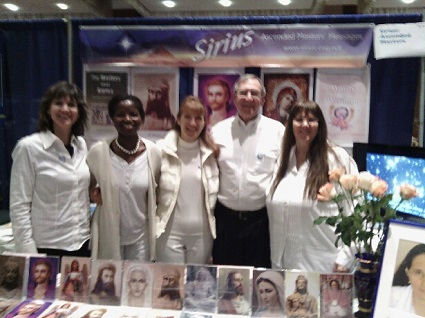 <![endif]>
With love and endless gratitude,
Maria.
<![if !vml]>

<![endif]>