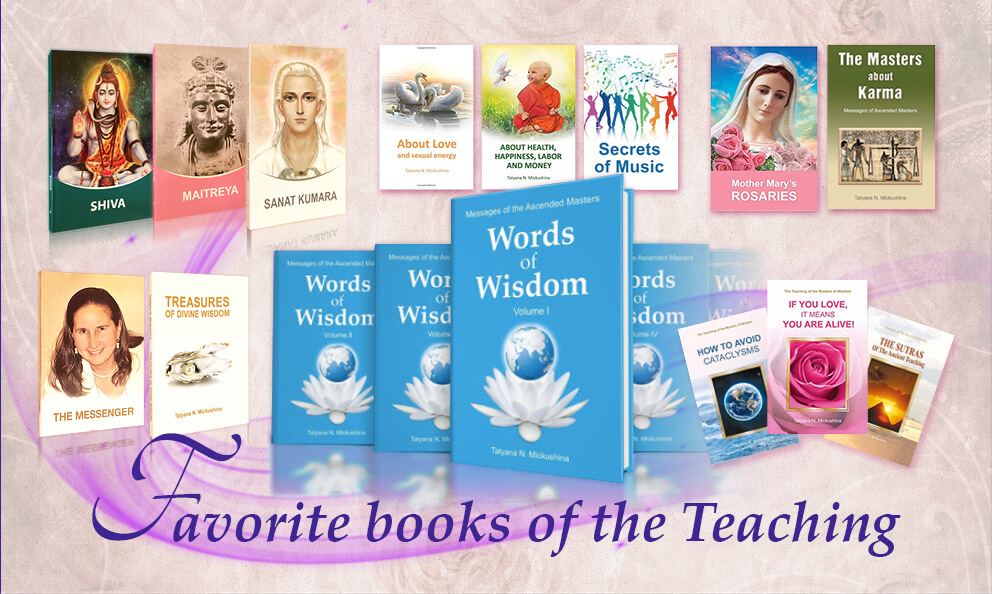 Dear friends!
We are starting a new Project - "Favorite books of the Teaching."
This Project is somewhat similar to the "Helping Hand" project that many visitors of our site love.
In the "Favorite books of the Teaching" Project, our readers share their impressions of their favorite books from the Teaching of the Masters of Wisdom. About how these books came into their lives, may have changed it, and how they have been helped. Everyone has their own story.
If you also want to tell us about your favorite book from the Teaching of the Masters of Wisdom, you may send your video telling your story (video review) or a video with voice over (video) to the following email: sirius.centers@gmail.com
The best video reviews and videos will be displayed on our web-site Sirius sirius-eng.net, YouTube channel and social networks.
The recommended time for a video review is up to 3 minutes, and for a video up to 15 minutes.
We now bring the first video to your attention.
The sage invites us on an inner journey.
The author of the video: Shiwang, Kazakhstan, Almaty
* * *
Tatyana Mickushina recently held a Skype conference. We offer you the video and text of two fragments from this Skype conference.
Why has interest in the books of the Masters decreased?
A fragment of the Skype conference by T. N. Mikushina, November 2020
T.M.: The Тeaching given by the Masters, the main study, is the Teach-ing about the Path of Initiations, it is an individual path. This is not group work.
And if we did some group work, it was only if I participated in it, so that during this work I could see how people cooperated, how they interacted with each other, what qualities they showed during this work. And, ac-cordingly, people could grow in this work. But in the current situation, where everything is out of control, I see that people do not grow, but de-grade. So, in order to perform even Karma Yoga, you need to perform it with the right motive. And most people who now "give" the Teaching of the Masters or distribute books, act from an egoistic point of view. What kind of Teaching are we then bringing to the people?
So, you see, in order to even distribute books, you need to have certain qualities. Books fly out of the hands of the pure, the unselfish, from the hands of people who conduct Divine Energies. Then the books go away. And when any other motive is mixed in, the books won't go away. Be-cause people don't buy books, people go after the Divine Energy.
For them to get that Divine Energy, you need to have It.
So, the one who has the Divine Energy, people want to take (books) from him. And if he doesn't, then everything stops. So, the question is about our own self-improvement in God. And, perhaps, this stage that we are currently going through is given to us in order for us to realize: this is what has been given to us; now, did we use it correctly?
So, this is the time to analyze something inside of yourself. Until we clear the Way to God through ourselves, it is useless to do anything. We bring Divine Teaching, Divine Truth to this world. But in order for the people to
see that this is truly a Divine Teaching, we must have Divine Qualities. This will attract people, first of all. And then they will buy these books, read these books, understand? So I think we should take a break. And at the very least, stop and think. Did we run into the right direction and con-tinue to run head over heels? After all, our task is not to spread the Teaching, not to sell books.
And what is our task?
Save your soul and the soul of the people around you. Through a change of consciousness to change the world.
A source: https://youtu.be/tP6Mx05sGZo
We help the whole world by overcoming bad states within ourselves.
A fragment of the Skype conference by T. N. Mikushina, November 2020
This Teaching is given at a certain energy level.
And in order to understand this Teaching, it is necessary for a person to approach this energy level, so that he can perceive this Teaching.
If now our entire society has fallen to a lower energy level with the help of the social media, various fears, vaccination, and chipization, then it will take a certain amount of time for the ener-gy potential to rise again to where people are able to accept this Teaching into their hearts. Understand?
We can only contribute to this by working on ourselves. Not suc-cumbing to these fears, horror stories, depressions, fears. This is the essence of this Teaching. So, whatever happens in the out-side world, try to maintain inner harmony and calm. And if we succeed, it is already a big step on our spiritual path. This is what the Teaching is about.
This Teaching is given to help us overcome bad states of our consciousness. Because by overcoming bad states of con-sciousness within ourselves, we help the whole world. Because we and the whole world are one. Each person is connected on a subtle plane with another person. And if we manage to achieve peace and harmony within ourselves in the face of external tur-bulence, then we are helping the whole world.
A source: https://youtu.be/RCtNqKooLFc