The books of Tatyana N. Mickushina
were presented at the
"Body Mind Spirit Expo"
in Chicago (Northlake), USA,
on March 7-8, 2020
The Conscious Life Expo in Los Angeles was very successful!
Our Body Mind and Spirit Exposition in Northlake, Illinois was held in spite of the fears generated by the media over the Coronavirus.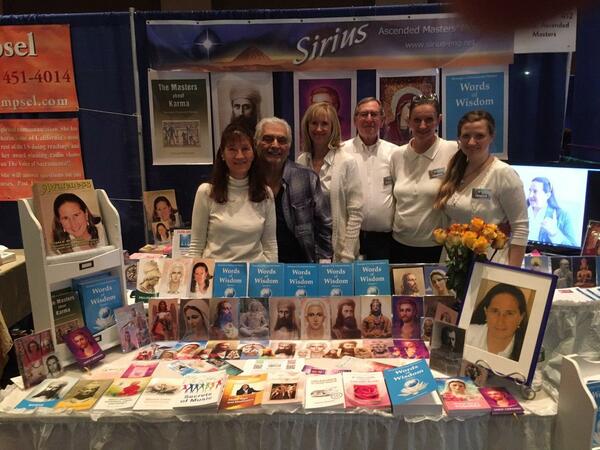 The Masters were with us. There was a feeling of love in the auditorium and amongst the members of our team.
It's already a tradition, we functioned like a well-oiled machine, meeting and greeting the people who stopped by our booth, while sharing the Messages of the Ascended Masters, transmitted to humanity through the Messenger Tatyana N. Mickushina.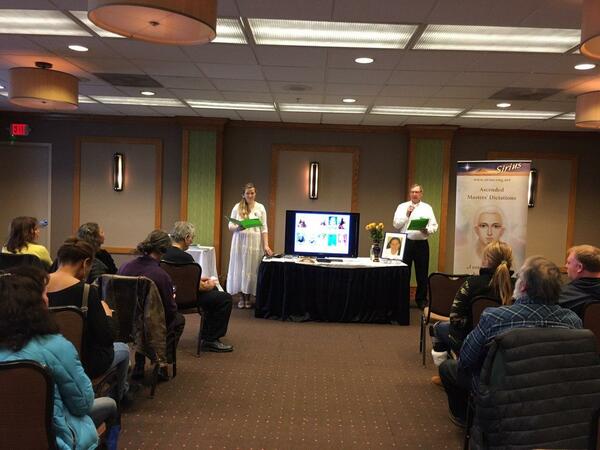 Our presentation on Music was well received.
During the presentation, some people were taking notes and others were taking pictures of the TV screen to preserve their memories.
We ended with applause from the audience.
Afterward, people stayed to talk about how they now understand how music affects us in our lives, even though they still like non-classical music.
I told them I also like some music from my past but I now know that a lot of it is not good for my body, mind or spiritual growth.
I also had a long discussion with a DJ/composer who actually sees good music being distorted within the industry.
He and his wife later came by and bought the book 'Secrets of Music' and became very interested in the «Sirius» website.
It was a very nice weekend spent with loving coworkers and visitors sharing their love in seeking the truth through the books of Tatyana Mickushina and The Ascended Masters Teaching that was brought to their attention.
With Love and Light,
Rick Wilde
Greetings my friends and thank you for your support and well wishing before and during our Chicagoland expo.
I just like to let you know, that according to the circumstances we did very well and our mission was accomplished... It is good to know that we can help people who are awakening, by showing them how important is to read, study and understand how to reach the destination to the Right Path...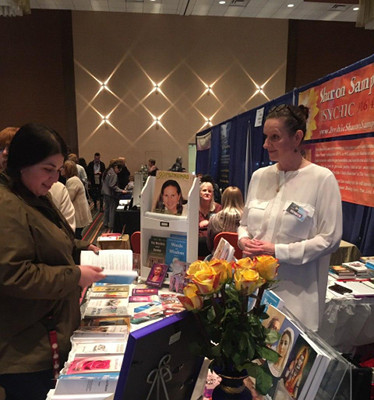 I love the sentence that "God works in mysterious ways", by putting in our journey new people, new souls, and for us maybe in the future, good friends... I really felt that spirit of cooperation, overcoming my ego and opening my heart chakra, especially under the guidance of Saint-Germain in His favorite city, Chicago.
Sending my Love to all Masters of Wisdom and Tatyana N. Mickushina and to our whole international team.
Blessings, dear ones!
Kasia
The Exhibition "Body Mind Spirit" flew by in one breath.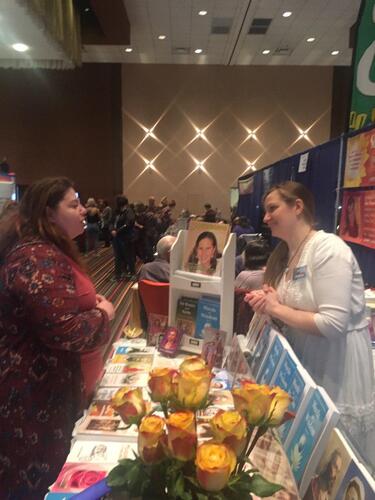 Our Chicago team came together and we were very happy to meet again!
For two days, an atmosphere of love, joy, and friendship has been visible in our booth, and our relations with each other greatly enrich our life and cooperation!
There is a feeling that there are more and more conscious souls ready to accept the Teaching of the Ascended Masters each time.
From the very beginning of the Exhibition, amazing souls began to be attracted to our booth and many of them had already heard about the advent of the New Era.
On the first day, two young girls approached us, one of whom, when she saw the Image of Sanat Kumara, exclaimed, "He is in my soul, I know Him!"
As it turned out, she saw the Image of the Master for the first time, but immediately felt a strong connection with Him.
We were surprised and at the same time very pleased with this turn of events. The second girl felt the connection with Lord Shiva. As a result, each of them purchased books, and we also presented to them our Awareness magazines with an article by Tatyana Nicholaevna, written for the first time specifically for American readers.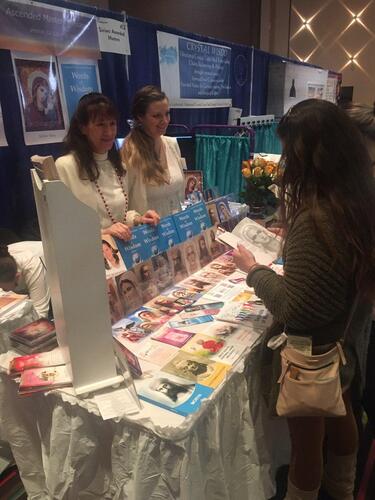 I also remember meeting with another visitor. She went to the stand, and we invited her to read the first Message of Sanat Kumara. When she opened the book and read the first lines of the Message, she staggered and said that she was dizzy, and she was very sensitive and could not stand, because the words of the Message contained the strongest energy that knocked her down.
We invited this visitor to sit down inside the booth so she could read the entire Message, our guest gladly accepted this offer.
When she read the recommendations of the Masters on how to read the Messages, she felt strong energies again...
As a result, our guest felt a desire to purchase the First Volume of the Five-Volume series "Words of Wisdom" in order to begin to study the Teaching, and we were very pleased with this decision.
Our guest also said that she feels the light coming from our team.
When we invited her to the presentation, she asked if there would be chairs there, since it would be impossible for her to perceive the strongest Vibrations of the Masters while standing.
On the second day of the Exhibition in the morning, a visitor came up to the stand with the books of the Masters, who immediately drew her attention to the Image of Sanat Kumara, and said that this Image came across to her everywhere. And when she opened the book, she just held her breath and she felt very hot. She was very surprised at her condition and did not understand what was happening to her, and we explained that the energies of the Masters act in this way. After some time, this girl also brought her mother to our booth.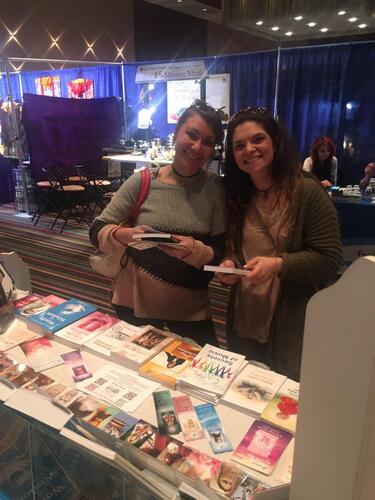 Then we were approached by two very open and friendly visitors. One of them, named Maribel, was going to visit Mount Shasta in Northern California and was looking for the Image of Saint Germain. She loved Image of Saint Germain at our booth.
When Maribel opened the book, she also felt the energy and such intense heat that she even had to take off her jacket.
Maribel repeated several times that her soul knows the Messenger and said that when she saw the photograph of Tatyana Nicholaevna at our booth, she recognized her immediately.
As a result, this guest of ours happily acquired several books and Images of the Masters, took our advertising materials for distribution and expressed a desire to become one of our volunteers, which we were very happy about.
Meetings with people who know previous Messengers is always particularly memorable.
Also, we were approached by a visitor who personally knew Guy and Edna Ballard, and later met Mark and Elizabeth Clare Prophet and collaborated with them.
She was very interested in reading Their Messages given through Tatyana N. Mickushina.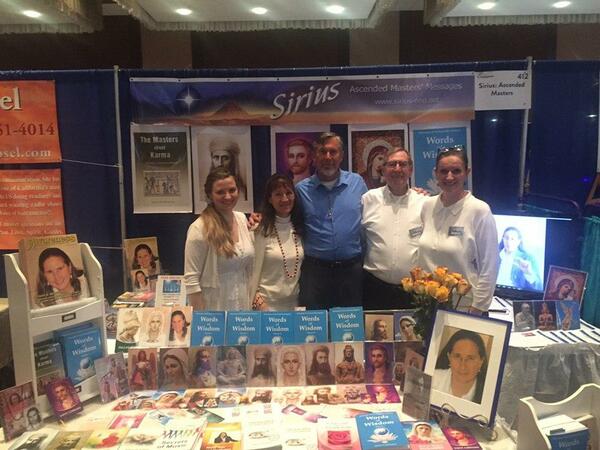 Also at this Exhibition, to our great surprise and joy, we met a long-time good friend from San Diego, CA - Dennis, a student of Elizabeth Clare Prophet, who met her in his youth at the age of 17 and then lived in her Ashram for several years and helped her.
Previously, Dennis had invited our team from Los Angeles and the Chicago team to present Tatyana Mickushina's books to followers of Mark and Elizabeth Claire Prophet at his home in San Diego.
He also shared several personal conversations with Elizabeth Clare Prophet that filled our hearts with warmth.
We always feel love and some kind of community at such meetings.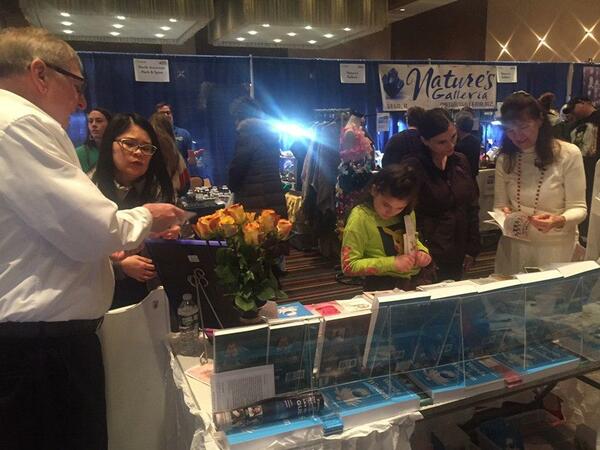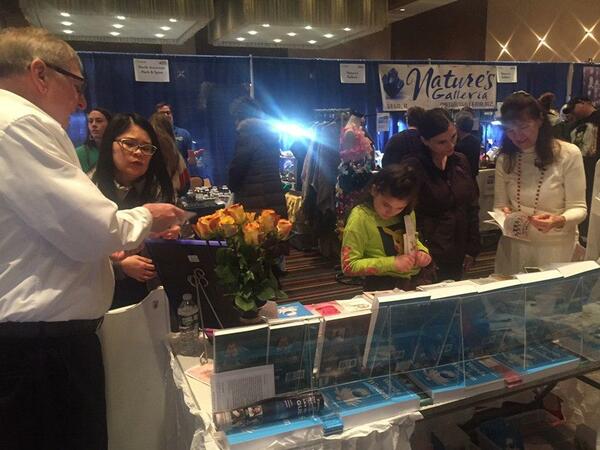 Some guests of the booth took our flyers and printed Messages for distribution. We were very pleased with such a rush in their hearts!
Overall, a very pleasant, warm, friendly atmosphere reigned throughout the Exhibition - not only among us but also at neighboring stands.
People around us were very kind, attentive, offered and helped each other.
The opportunity to spread the Teaching at Exhibitions, and reunion with the spiritual family are some of the happiest and brightest days of our lives!
Many thanks to God, the Masters and Tatyana Mickushina for the happiness and honor of service!
With all our hearts we thank our friendly worldwide team for their love, help and prayer support!
With love,
Lina
The springtime in the land of America is associated in our hearts with the fact that every year, at the beginning of March, we have been privileged and have the Blessing to take part in our favorite Exhibition "Body Mind Spirit Expo" in Chicago, for 10 consecutive years, presenting the books of Tatyana N. Mickushina, the Messenger of the Great White Brotherhood with the Teaching of the Ascended Masters.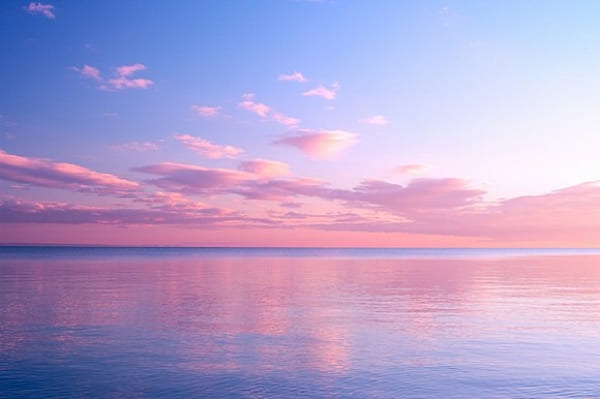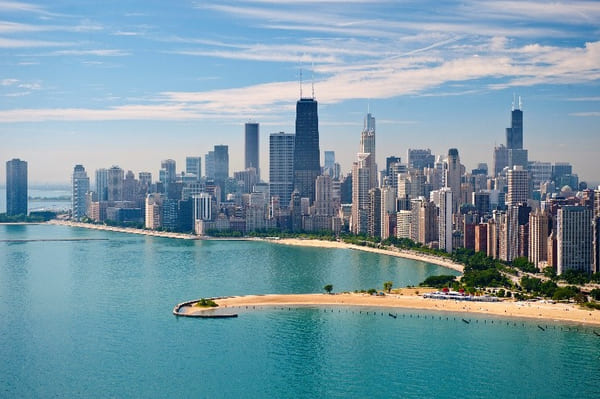 According to ancient and secret knowledge, this place on Earth, where the city of Chicago is now located, is the heart chakra of America.
According to the Will of God, it was here in Chicago, that an emerging and formation of all the work on spreading the Teaching of the Masters, transmitted through Tatyana N. Mickushina, took place in the English-speaking area of our planet.
The Teaching is given with the feeling of deep and unconditional Love, and having accepted it into our hearts, we bring the word of the Teaching to the land of America, as the greatest treasure of our world!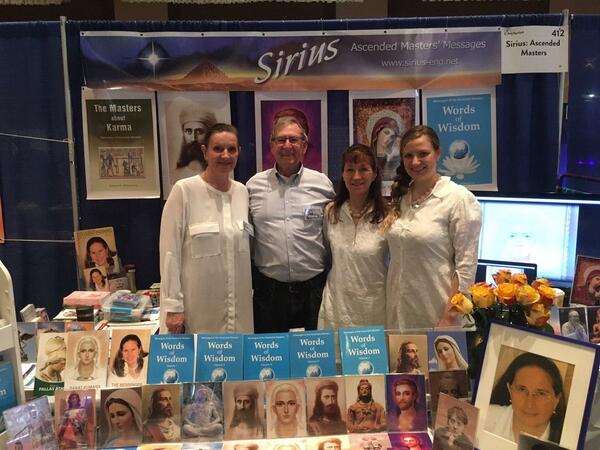 This was the 33rd Expo, held by our team in the West.
This number itself is sacred in many spiritual traditions. Being secret and mysterious, it brought a sense of mysticism and magic to the events and meetings that took place before our very eyes.
The Guardian Angel of this amazing and powerful number is Archangel Michael himself, who can "argue for every soul".
His patronage and presence was very subtle, and it was manifested in much of what was happening at this Expo and what was difficult to explain to the external mind.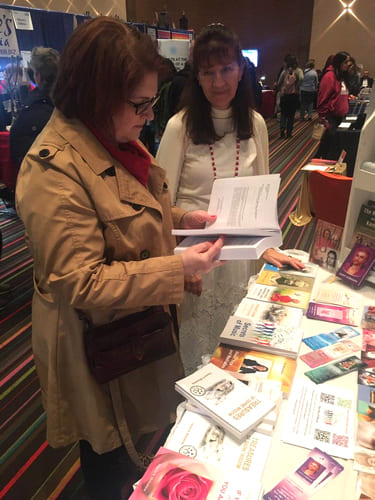 One by one, people were coming up to us and opened their hearts, telling us about their inner connection with the Masters. They seemed to recognize Them from the images on books and cards, although they had never seen Them before.
Many people have shown great interest in the Teaching and the Messenger Tatyana N. Mickushina.
Outwardly, everything looked as usual. People approached our booth, they viewed and purchased books and cards with the Images of the Masters, and told us about their aspirations... and behind all that, a Mystery of God happened! It was He and the Masters, who sent these people to our booth for books, so that the souls of those who were ready, could touch the secret Knowledge and embark on the Path of return to their Father's Home!
Every soul is precious that blooms before our eyes as a beautiful flower with new life!
A huge positive charge was felt a few days before the start of the Expo, and of course, it was there during the entire Exhibition.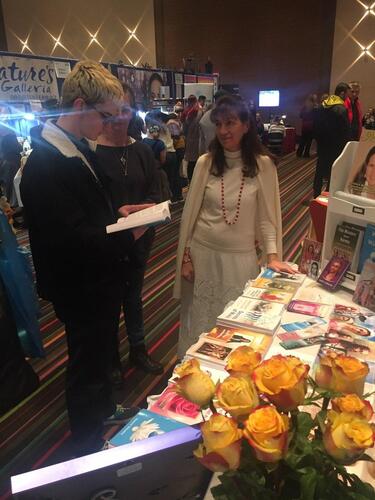 Even now, when our lives enter the usual course, our hearts sing with joy and quietly rejoice from the contact with new, light energies, which are increasingly filling the space of the planet Earth.
We work tirelessly in order to feel these new energies, and to be ready to take them into our hearts and follow them!
Let the Earth live!
Let the World be happy!
Let all living beings be happy!
With a low bow, boundless Gratitude and Love of all my heart to God, the Masters of Wisdom, our Beloved Teacher Tatyana N. Mickushina, Tatyana Martynenko, and all our dear like-minded friends from all over the world for their Love, warm-hearted support, assistance, and trust!
It is truly a Blessing to have the opportunity of such a service!
God bless you, our dear and beloved ones!
Maria