Books by Tatyana N. Mickushina
have been presented
in Chicago,
at the special event
April 7,
2019
On this day - April 7, we first reached the American audience with a very important and relevant topic:
"The power of Music to create or destroy."
By tradition, we held this meeting in one of the most picturesque suburbs of Chicago - Naperville, in the so-beloved RUAH Center.
The presentation on this topic was a serious rehearsal before performing at one of the largest and most representative spiritual exhibitions in the United States, which will be held on April 26-28 of this year in San Mateo, California.
During the preparation and conducting of this Lecture, we felt a huge release of Divine energy and a strong resistance of opposing forces as well.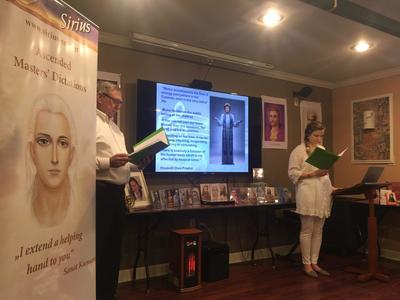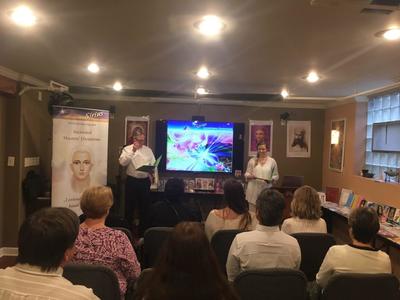 By God's Grace everything went great! There was a feeling that by the end of the presentation the ice had broken and the hearts of our guests had opened to this sacred Knowledge.
The energies of the Masters in the hall were very strong.
We were a bit worried and at the same time very happy that we finally had the opportunity to make a presentation on this vital for the whole world topic, and especially for the Americans, because many of them are familiar from jazz and rock roll from very childhood.
It was gratifying that those who were present were very receptive and attentive. We heard such comments as: "It's really a good topic," "I didn't know that music can influence us so much!", "Do you think people know how destructive rock music can be?"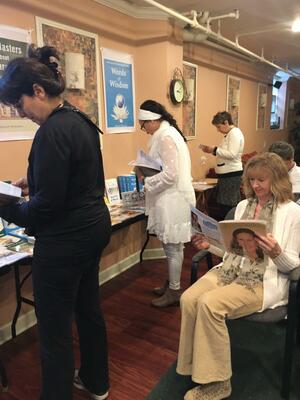 We remember a meeting with a music teacher. She said that according to the school curriculum, teachers were obliged to tell children about jazz, but she always tried to inspire students to listen to good music, distributing Emoto Masaru's books and Mozart's CD's in class.
Our guest with pleasure purchased the book "The Secrets of Music", now it will be easier for her to conduct classes, having more knowledge about the influence of music on the spiritual development of a person!
This presentation definitely makes you think about the destructive effects of music with the wrong rhythm and raises awareness.
We prepared 2 types of flyers with QR codes with links to videos of Tatyana N. Mickushina and Galina Pavlova's lecture on music, as well as music recommended for listening from the Youtube Sirius channel. Some guests took several copies of flyers for distribution among their relatives and friends.
We are happy to be a part of this spiritual and educational movement, which is so important for the souls of people.
We express our huge gratitude to God, Ascended Masters and Messenger Tatyana N. Mickushina for the honor to be in service!
Many thanks to our like-minded friends from around the world for their help and prayerful support!
With Love and Gratitude,
Chicago Team
International "Sirius" Center