The books of Tatyana N. Mickushina
have been presented
at the Metro Toronto Convention Centre,
North Building - Toronto, Canada
at the Total Health Show
May 11-13, 2018
We were leaving Canada with hearts, filled with Love, Gratitude and a Hope for the further meetings!
"Something similar to the invention of the Internet, yet in the subtle plane of planet Earth, is starting to work now! This is a global network of positive thinking. It is a global network in which only the Divine principles and methods are spreading with the speed of light all over the globe"
(Saint -Germain)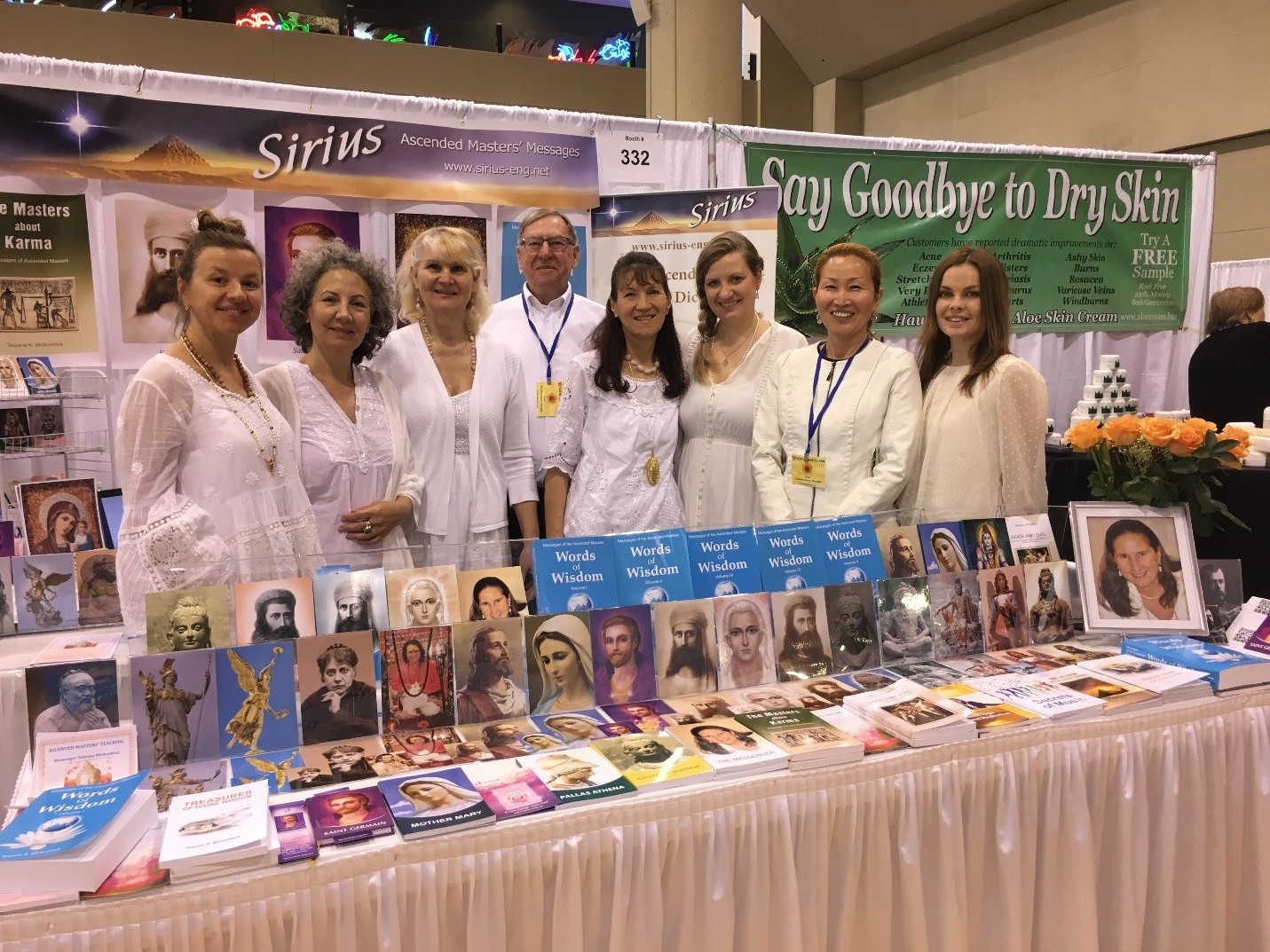 During our exhibition I felt that we were the antennas through which these Divine principles were conducted to Earth. I felt the waves that passed through us to the exhibit hall, to the city of Toronto, to the country of Canada, to the continent of North America, and to the whole planet Earth. We were conductors, everything else was accomplished by the Ascended Masters. Alchemy of miracles unfolded before our eyes: it was the opportunity to make a presentation on the Law of Karma, it was the appearance of new volunteers to work at the Show, it was the meeting with people familiar to us from the previous exhibition, it was a soft feeling of joy when somebody responded with his heart to the Teaching of the Masters; it was also our unshakable desire to pass the flame of knowledge to more and more people.
How happy we were to feel unity with each other and with the Ascended Masters in our joint Service!
Natasha Z.
(Toronto)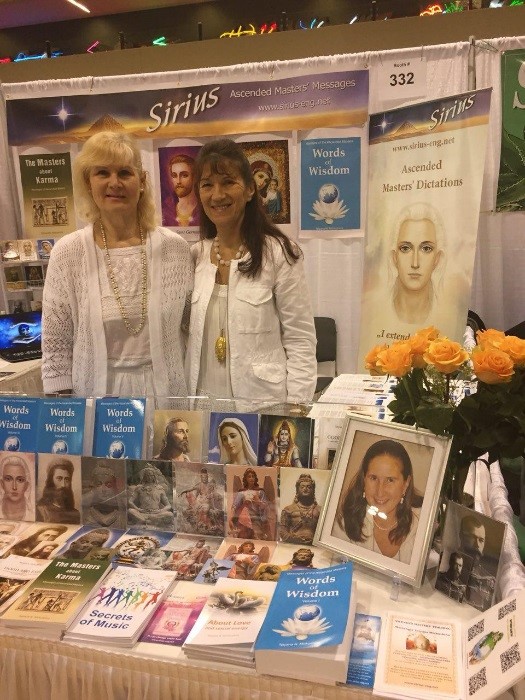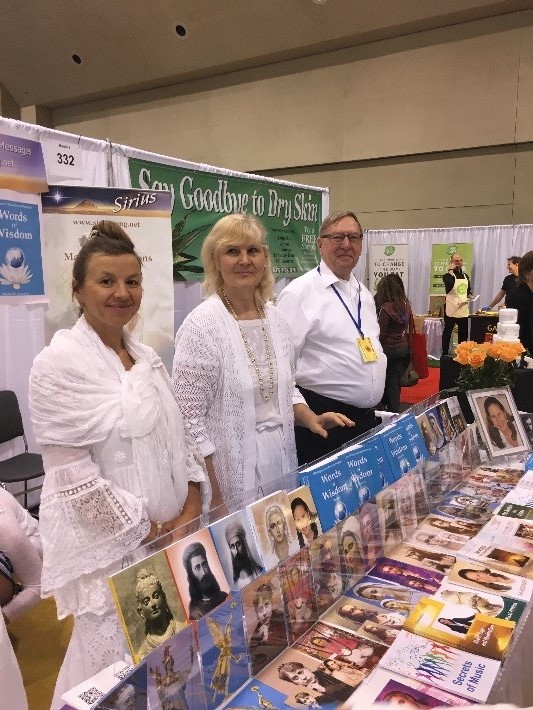 My participation as a volunteer in the Total Health Show was impactful for me. it was the first time I have spent the whole day in the booth talking to people and absorbing the energies that Ascended Masters were generously pouring on us. The day before I was going through some personal issues that have been resolved right before the event and I did not feel affected by that negativity any more.
It was impressive to observe an endless stream of people stopping by the booth and asking questions about the Teachings and sharing their experiences.
Previously I took part in 2 presentations about the Teachings that I was delivering in Toronto. It was a nourishing experience as I was feeling that every time I was moving forward with changing from within. I have also noticed some of the things I was trying to achieve started coming into my life. The stories that the event participants were sharing confirmed my beliefs about the immense impact of Ascended Masters on the lives of many people.
With Love and Gratitude!
Valentina
(Toronto)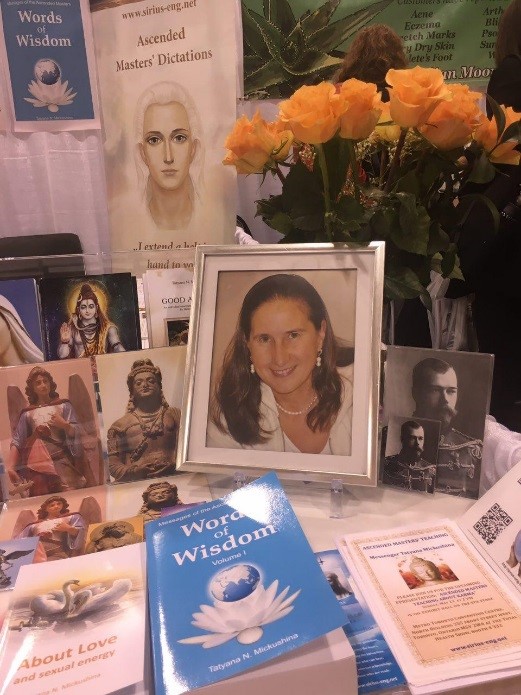 My report for The Total Health Show begins after arriving in Guelph, Ont., Canada at our hostess's house. Natasha provided us with welcome hospitality, wonderful food and comfortable accommodations for our visit. The four of us practiced yoga and meditation to prepare us for the show and made daily calls for the success of our booth and the presentation about "Karma".
The setup went well and the energy was good. A lady who purchased a few books last year also purchased many books this year. There were several 'repeats' from last year who made us welcome. Many people stopped by and we offered them opportunities to take Tatyana's Messages from the Masters to change their lives.
The last day was somewhat of a challenge for me, as the van driver, because Toronto had a marathon cheduled but we were unaware of it. We arrived in Toronto in record time and exited the expressway. After waiting 20 minutes in traffic I actually dropped my ladies off at the curb and left them to walk the 3 blocks or so to the convention center. 40 minutes later I parked the van. But the Masters got us there safely.
I had two incidents that really stood out for me. One was when an 11 year old girl walked by with her father. She was looking at the images as she passed and I asked her if she recognized any of them. She pointed to images of Mother Mary and Jesus but also Palas Athena. She picked up the Palas Athena book and turned to her father and asked if he would buy it. He did and we had a conversation about how the children are the future and how we need to give them the correct knowledge.
Another incident is when a woman stopped by and I asked if she was aware of the Ascended Masters. She said she was and picked up a Words of Wisdom Volume 1. She leafed through it and quickly put it back down. She said, "There's so much energy here I can't take it." She took a flyer and walked away. That made me aware of the effect the Ascended Masters can have on people.
We also had a new volunteer, Sarah, who was very enthusiastic and helpful.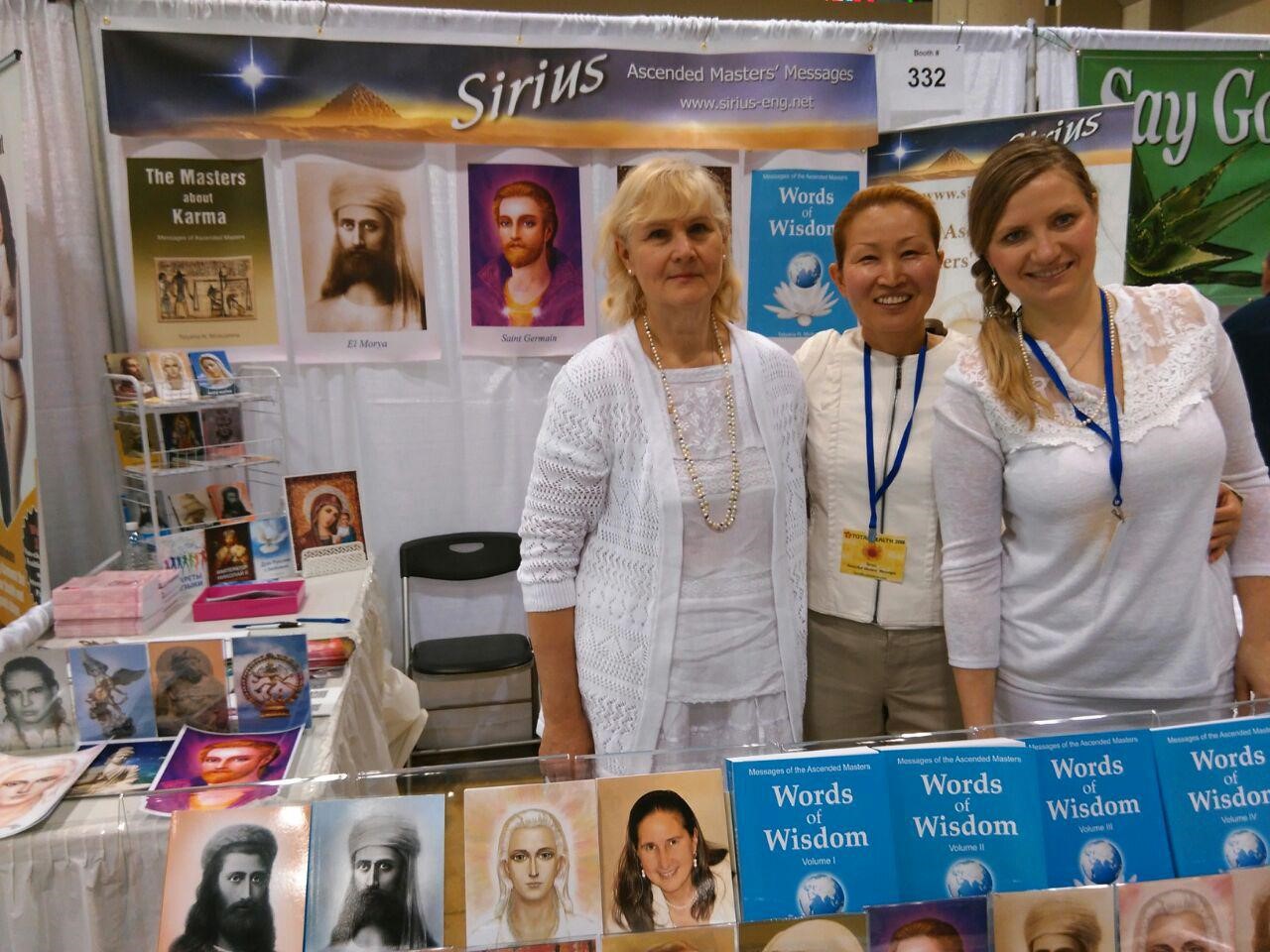 It was nice energy working with the public and my friends while sharing the messages of The Ascended Masters in Toronto, Canada.
With Love, Light and Gratitude!
Rick
( Chicago)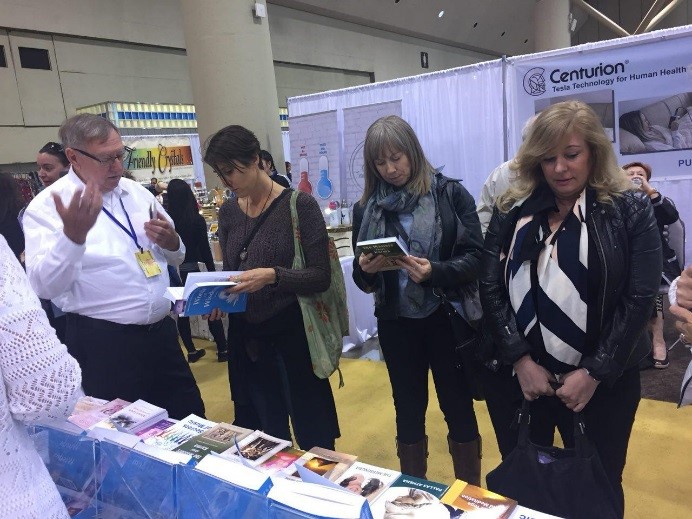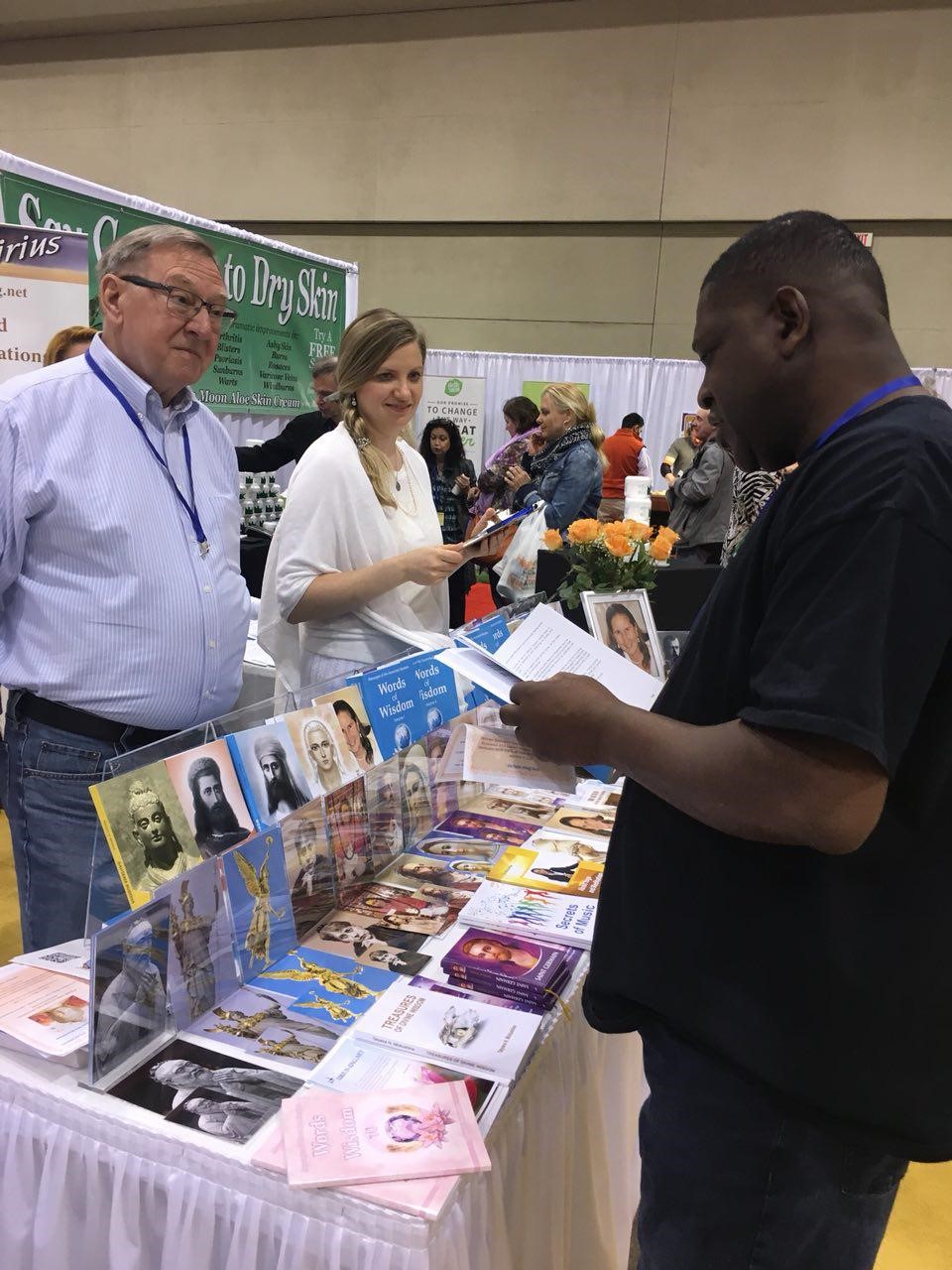 My experience of the show on this beautiful Mother's Day weekend was one that really spoke to my heart. Thank you, Canada, for making this such a beautiful memorable weekend.
So many mothers at the show were aware of the importance of having these types of teaching books for our future generations that they were buying the books for their children to read.
Our team was very focused and present to touch everyone's heart with the Masters' dictations.
Sitting through the presentation of our beautiful team members was very peaceful and gave such a feeling of love and hope!
Watching the video of our beloved Messenger Tatyana Mickushina's story again allowed me to see how genuine and beautiful of a soul she is.
With great love and gratitude,
Rima
(Los Angeles)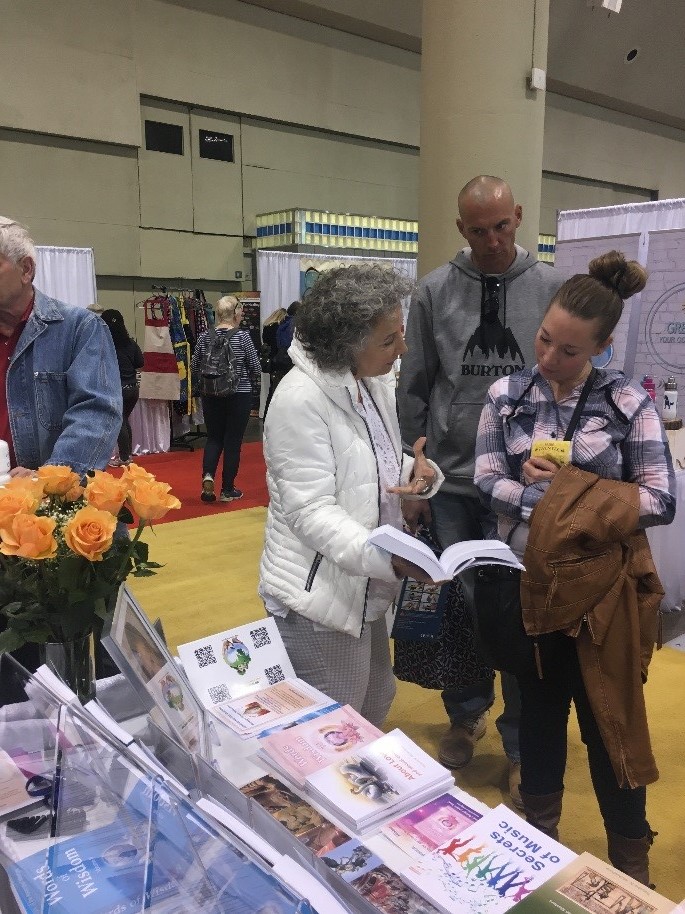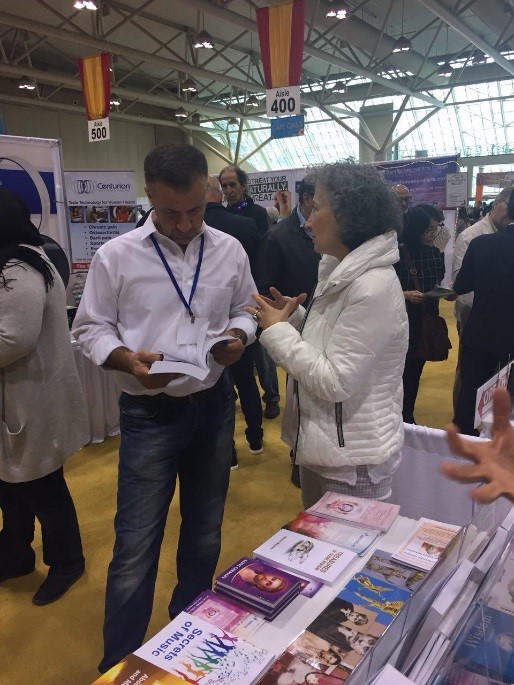 Our second expo in Canada was wonderful in an unusual way!
For the first time, we decided to participate in an expo that was devoted only to health, and our booth was the only one that offered books with spiritual content.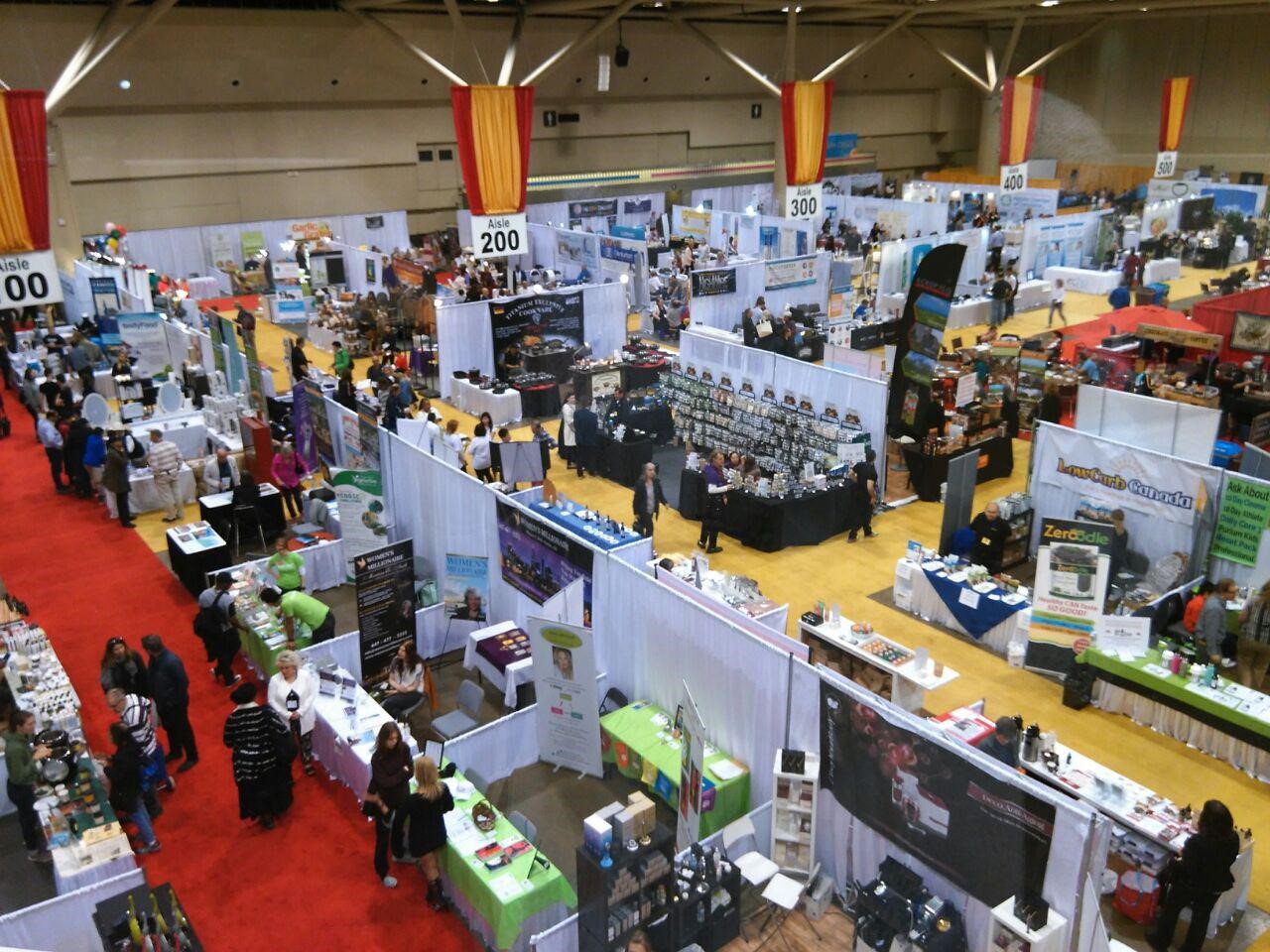 Crystal white, it attracted many souls that were interested in the Teaching of the Ascended Masters given through Messenger Tatyana Nicholaevna Mickushina.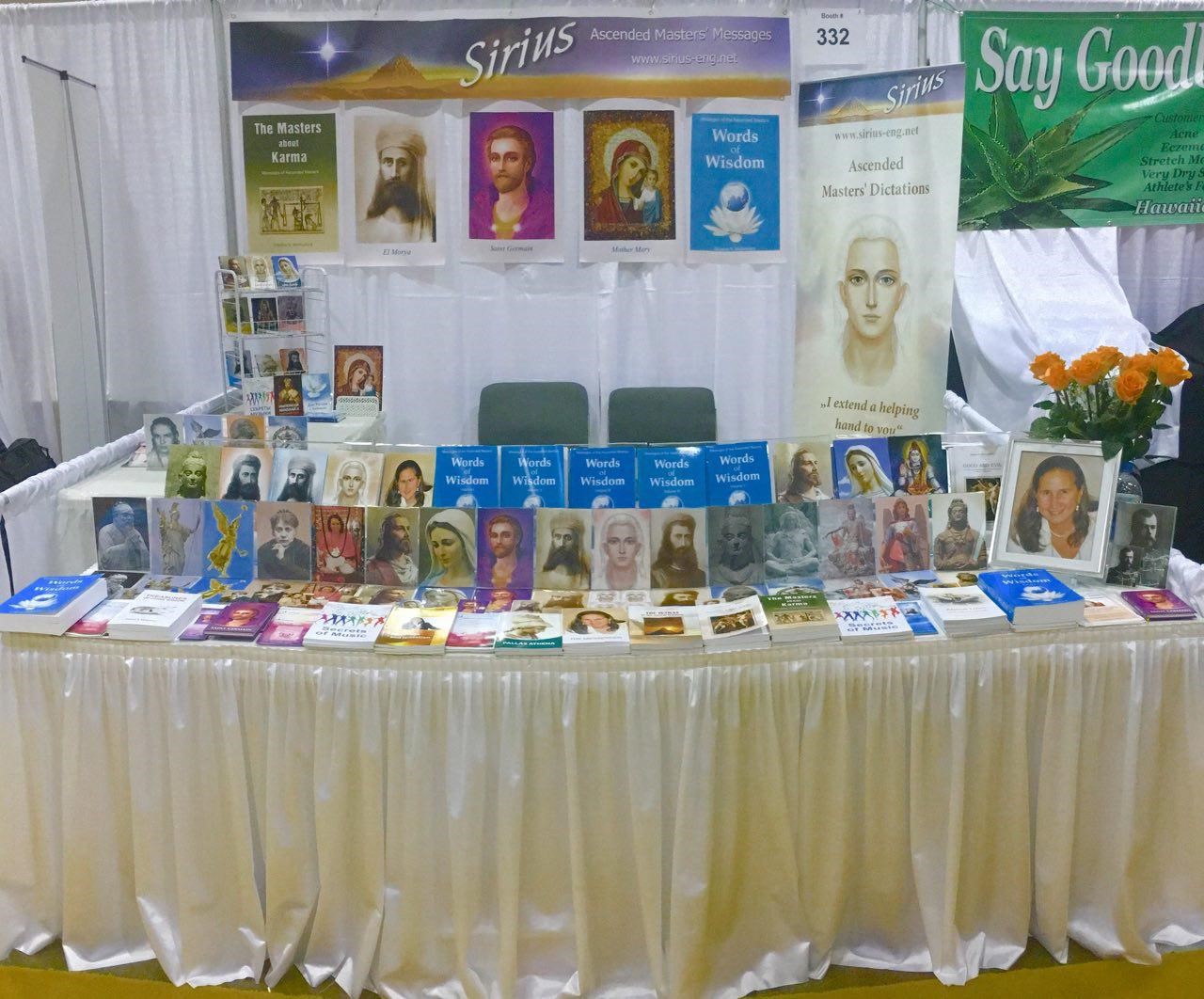 Many visitors who had bought our books in November of last year at our first expo in Canada, Whole Life Expo, came to us this time and gladly purchased new books to add to their collection.
One guest, when he came to our booth and saw images of Saint Germain and El Morya, said that he knew them…We offered him to open the books with Messages of these Masters and read a few lines. After looking through the books Saint Germain and Morya, the guest began to smile sincerely, saying that those books greatly resonate with his heart and he feels that he came to us for a reason.
A few moments later, his wife and 16-year old daughter came to our booth. They became very interested in the book Secrets of Music and told us that they have a tradition to listen to classical music in their family.
Our guests bought all these three books that they needed so much. We wholeheartedly wished good luck and advancement on spiritual path to this wonderful family.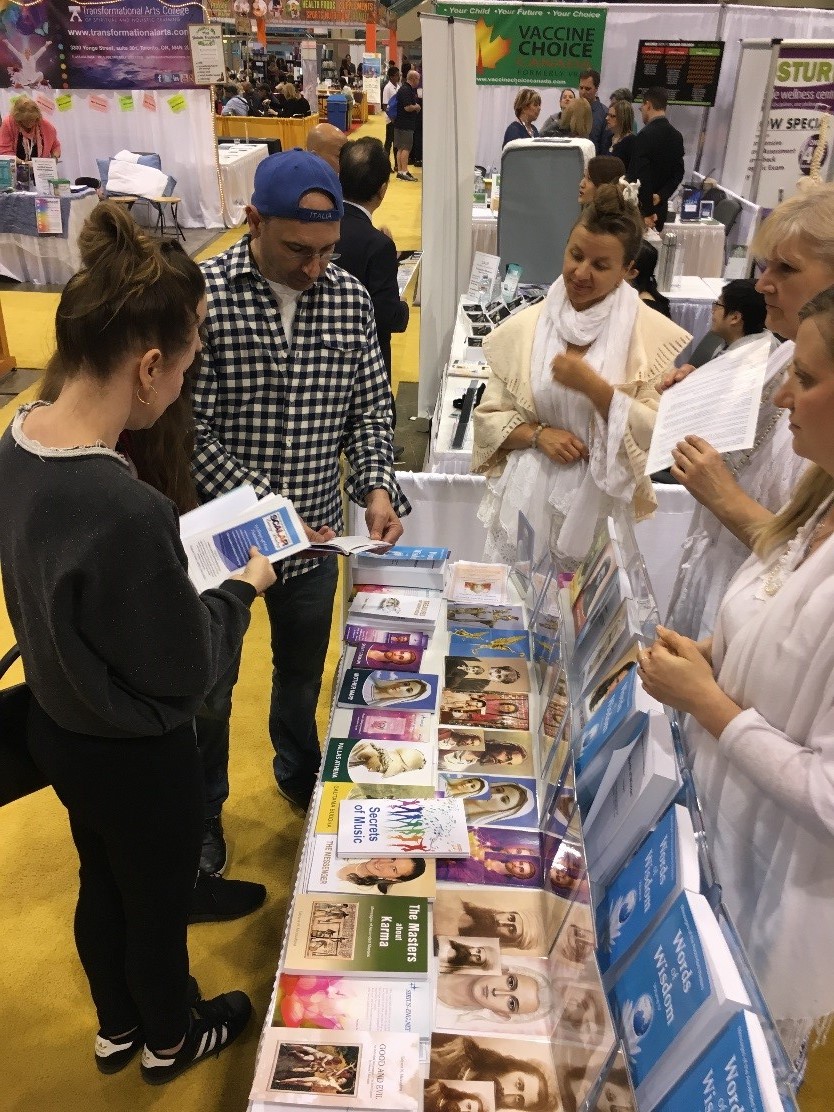 The expo was attended by people from different ethnic groups and religions, and many of them were open to listening about the Ascended Masters and Messenger Tatyana Mickushina. To be ready for such communication, we always print out Dictations from many different Ascended Masters, a short biography of Tatyana Mickushina and different flyers, so that people can take these materials with them and read them at home in the quiet of their hearts.
It is a true joy and true wonder to have such an opportunity to spread the Teaching, serve God and receive these treasures of Divine Wisdom!
We are so thankful for this to God, the Masters, and Tatyana Mickushina!
We thank our entire team of friendly, loving, united people from all over the world for their support and help with this Expo!
With Love from my soul,
Tatyana
(Los Angeles)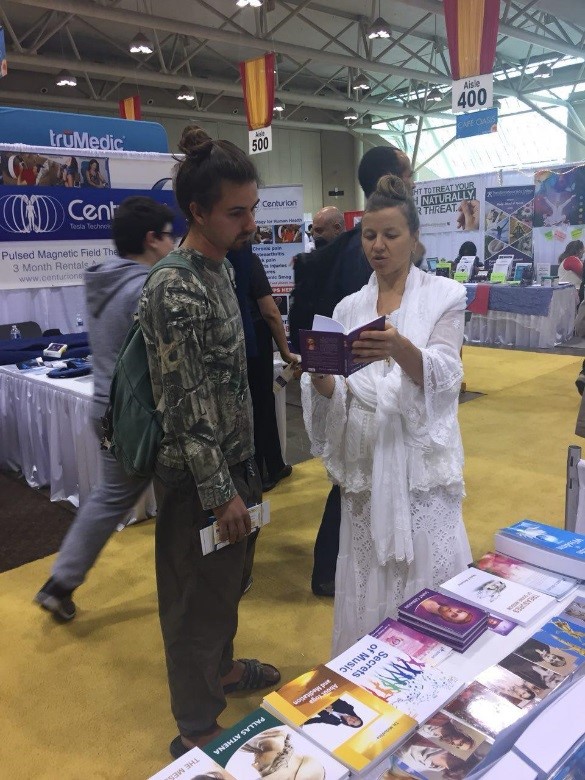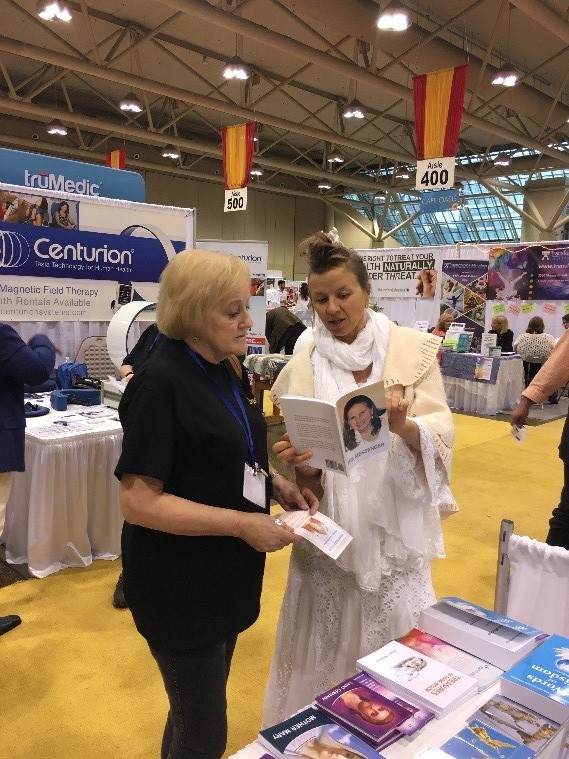 The exhibition "Total Health Show" in Canada went wonderfully!
We were happy to reconnect with a part of our spiritual family in Canada and work hard together!
We are very grateful for the love, care, attention with which we, who came here from the USA, have been surrounded all these days!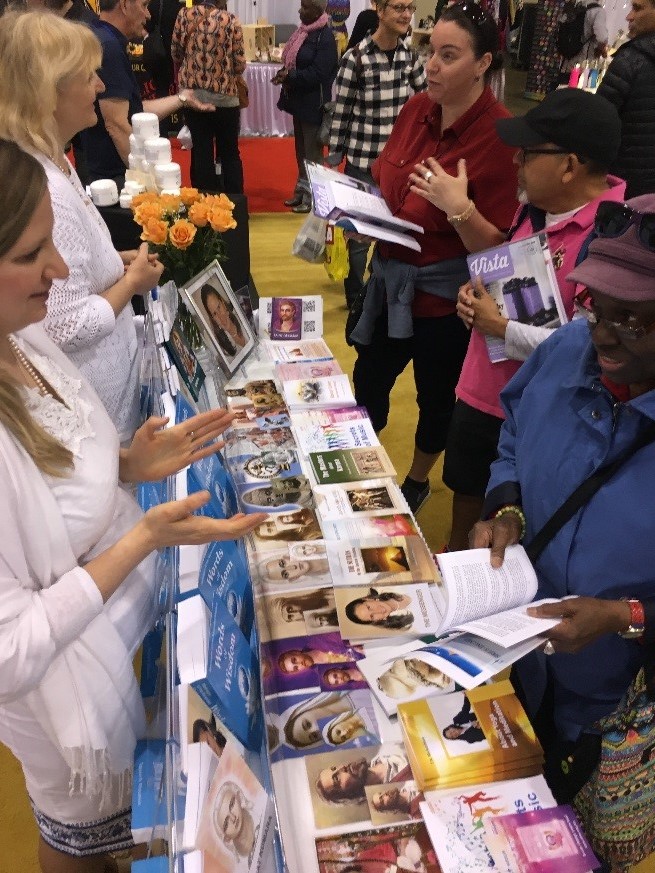 We assumed that the Exhibition would have had a direction more towards physical health, but to our joy the booth with the Teachings of the Ascended Masters was very popular among visitors of this exhibition!
Excitedly they were opening the books with the Messages, often finding answers to their questions.
Also we were very pleased to see our guests from the previous Exhibition.
So, one visitor said that she came to this show only in order to visit our booth again and communicate with us.
On the second day of the exhibition our friend Walter came up. Last year in November he purchased from us all books and images of the Masters.
This time he acquired all the new books and images as well.
We were all very glad to see him again and welcomed him a close friend.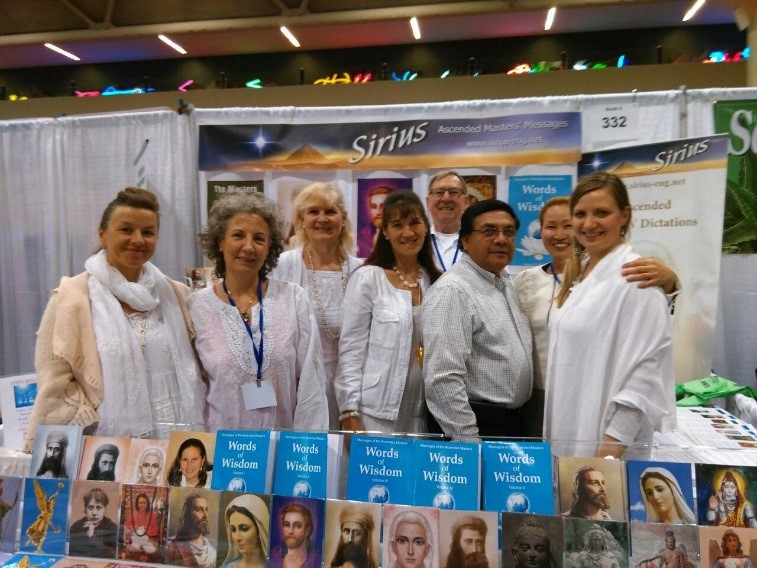 A mystical story occurred with our Lecture-Presentation.
When we registered for this exhibition, it turned out that for our lecture there was not a free time slot, since it had already been booked by very famous, eminent lecturers long time well in advance...
We had the opportunity to present Tatyana N. Mickushina's books with the Teachings of the Ascended Masters only at the booth, without Presentation, and we were already happy to have this opportunity!
But we still did not abandon the hope for a miracle, we prayed and continued to prepare for the presentation "Teaching of the Ascended Masters about the Law of Karma."
And then, the day before the beginning of the Exhibition we received a message from the organizers, that the time for our lecture was suddenly opened. On top of everything, it had to be not in a separate room with closed doors, but in the showroom itself, where everyone could see and hear the presentation.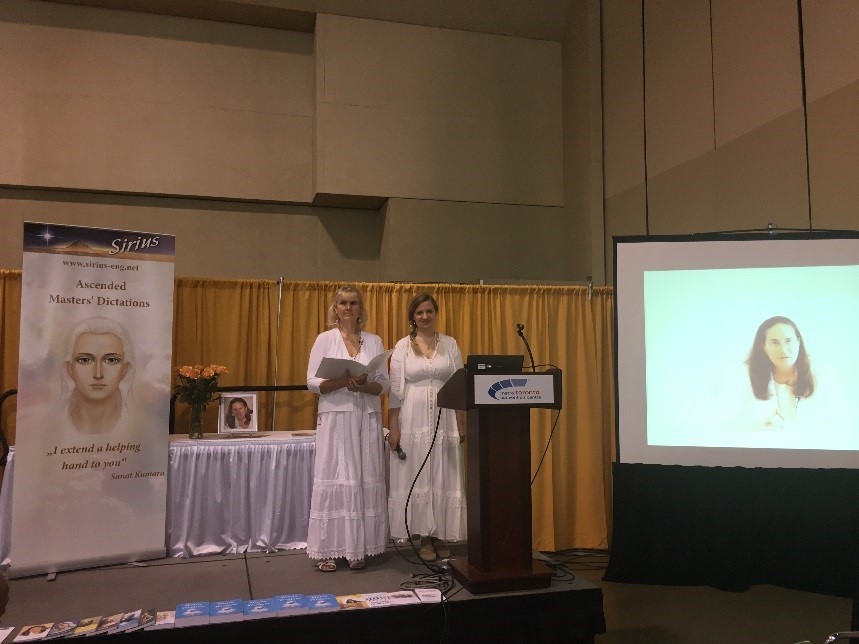 It was truly a gift from Heaven!
We were leaving Canada with heart, filled with love, and a hope for the further meetings.
With a low bow, Love and Gratitude!
Lina
(Chicago)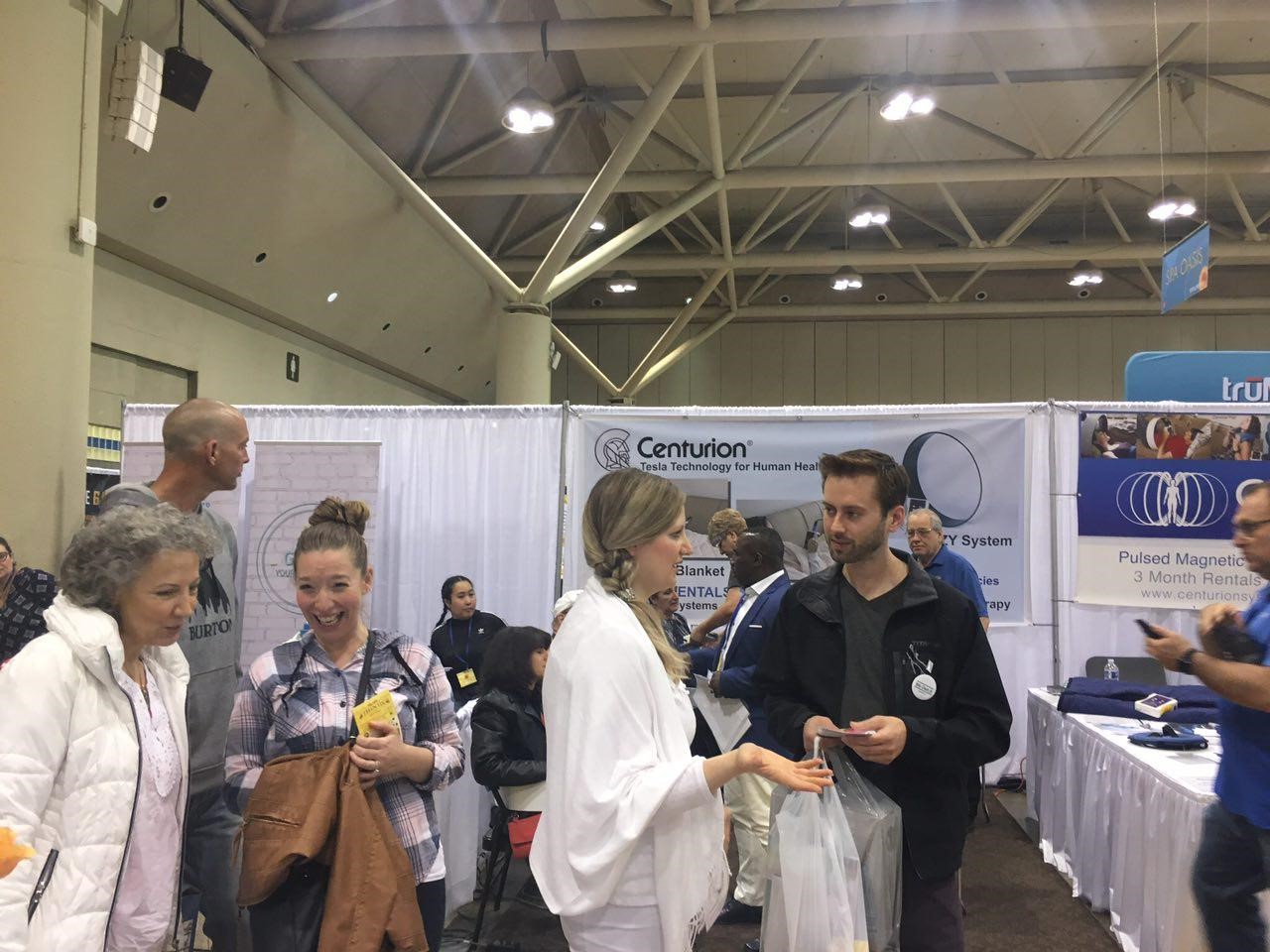 An amazingly exalted, bright and very joyful state did not leave us during all the days of the exhibition of the Total Health Show, and now, after it finished, everything that has been experienced and felt during these days is now feels only like magic ...
This is the second exhibition in Canada, in which we took part, presenting the books of Tatyana Nicholaevna Mickushina, containing the Teaching of the Ascended Masters.
For the first time, last November, Canada, a new country for us, opened its heart and accepted the Teachings of the Ascended Masters.
This time we felt that everything was not accidental and that this country in the person of its best representatives who visited our booth, was waiting for us.
So many bright souls came to us with aspiration and for the first time came got in touch with this Sacred Knowledge!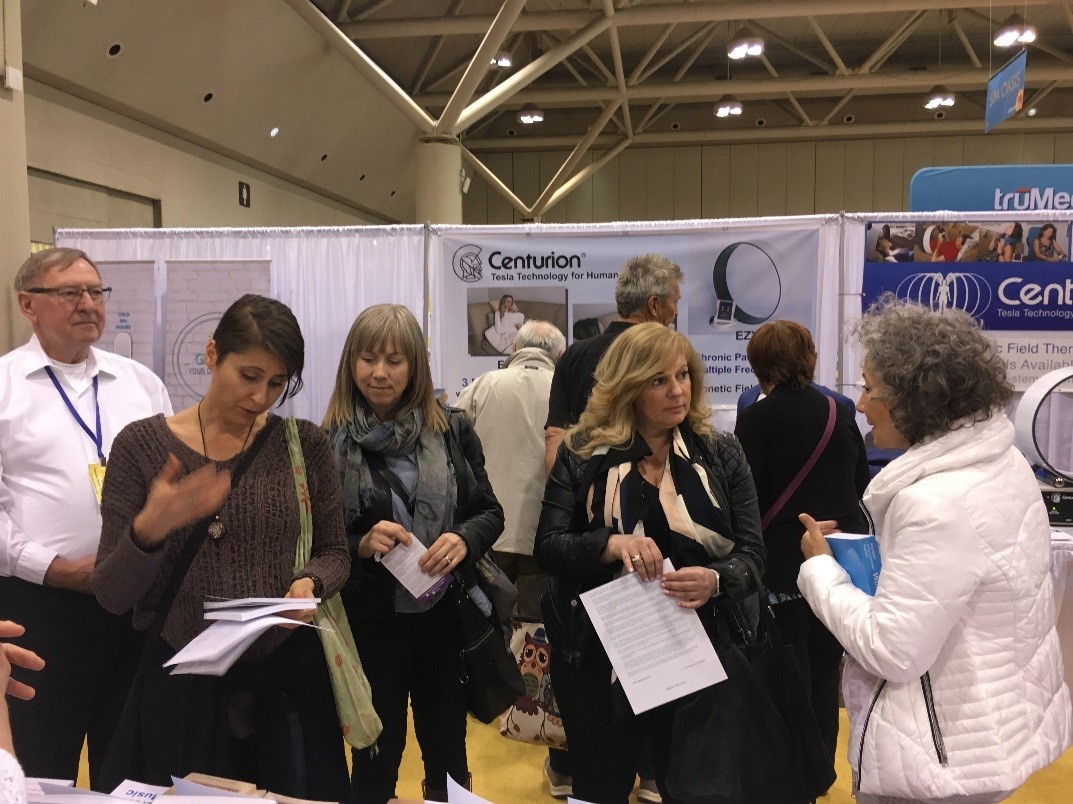 With much joy many of our acquaintances from the previous exhibition approached and acquired new books, which were not yet in their collections!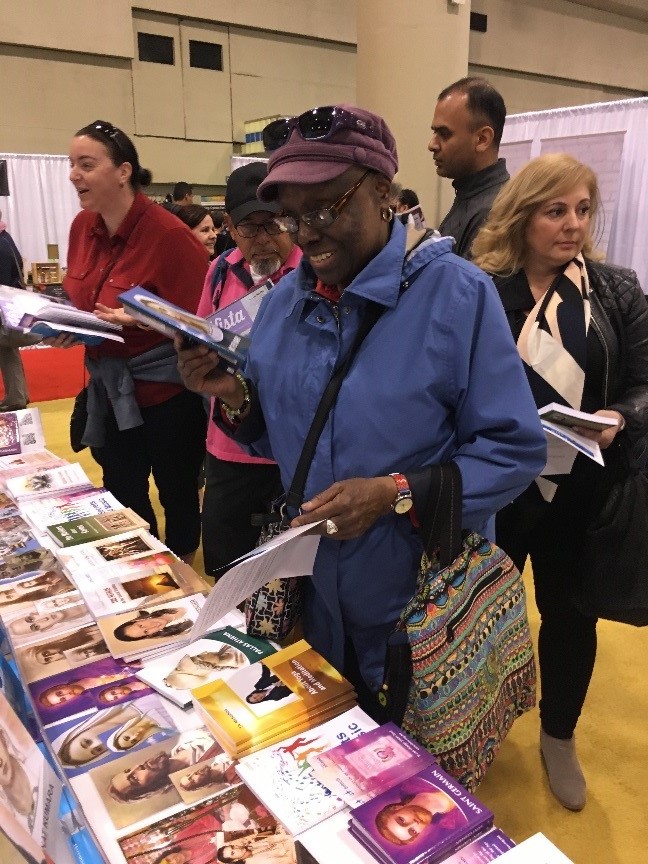 This exhibition was mainly devoted to the physical health and we had to find our niche, our space and open the way to knowledge of the Wisdom of the ages for people.
The feeling of the Miracle and Magic settles in the soul forever, when you realize that we are only the conductors of the Masters' energy, when in a new, practically unfamiliar country, at the Exhibition - little suited to the spirituality, so many people show true interest in the Ancient Teaching and acquire so many books containing it!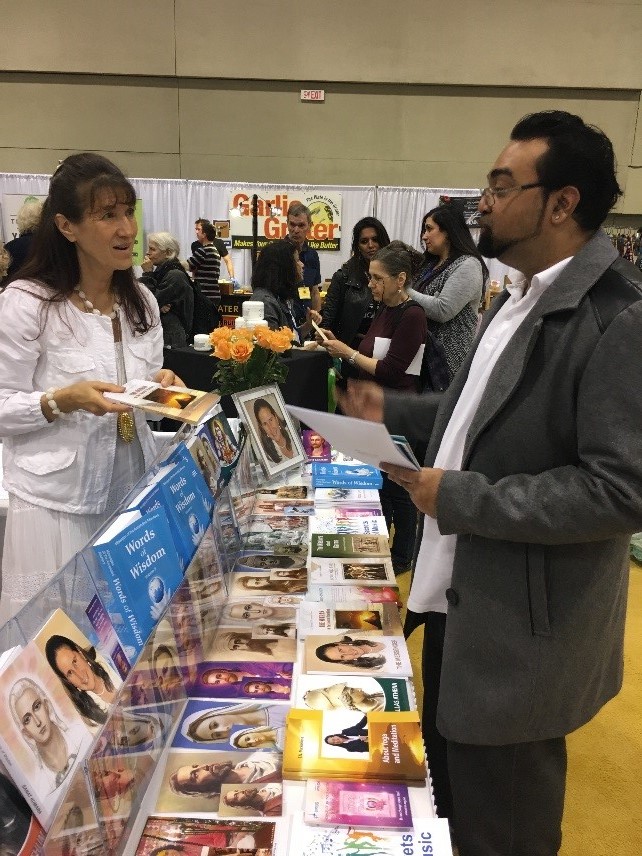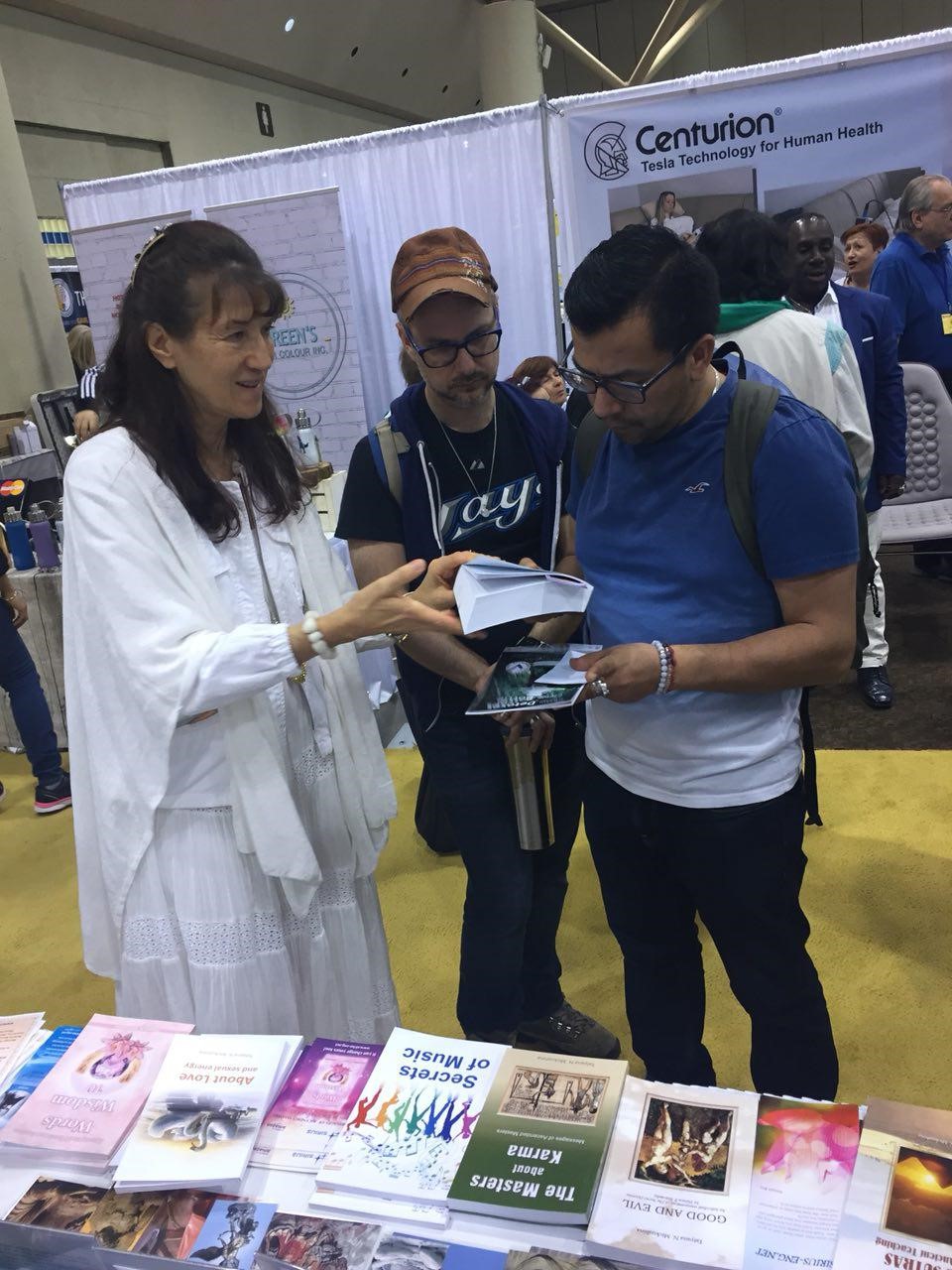 It is incomparable happiness to be in this stream of energies and to be able to help the world by spreading the Teachings of the Ascended Masters, handed over to mankind through Tatyana Nicholaevna!
Dear Tatyana Nicholayevna, a low bow to you and huge Gratitude and Love for your, so necessary work for all mankind!
So many souls have received and will still be able to receive awareness and relief of their condition by reading your books!
We, our friendly team, try to apply all possible forces and efforts, so that the Teaching, passed through you, enter into as many people's lives as possible!
Dear Tatyana Viktorovna, dear friends, like-minded people from all over the world, please accept our sincere Gratitude and Love for your loyalty to friendship and invaluable help and support in the common cause!
With the Love of my heart!
Maria
(Chicago)