The presentation at the RUAH Center was a beautiful Christmas gift!
Greetings Dear Friends!

At this time of year, many people are busy preparing for Christmas by decorating their homes, shopping and wrapping gifts, baking homemade treats, and celebrating with family and friends. Christmas is supposed to be joyful, but sometimes all of the hustle and bustle can be stressful.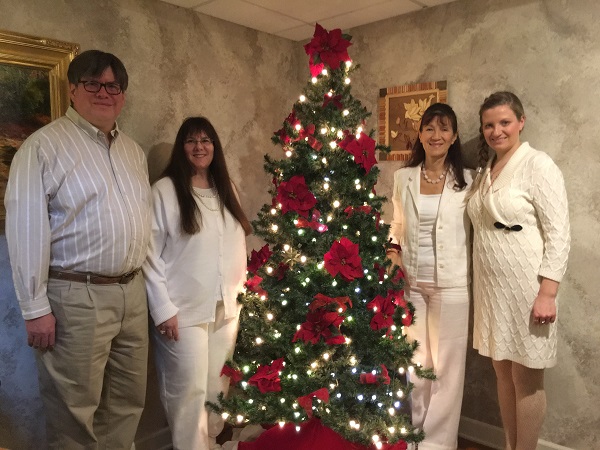 Participating in the presentation at the RUAH Center was a gift! Christmas decorations in the center created magical, charming atmosphere. On this day everyone was in an uplifted holiday mood. We could feel the presence of the Ascended Masters while we were setting up the displays! They were with us! What a great honor it is to represent the Messenger of the Great White Brotherhood, Tatyana Mickushina!

We all enjoyed being in the company of people who wanted to hear about the Ascended Masters. We were very happy that in spite of the Christmas rush, our friends came to the Presentation. We took a deep breath and relaxed in a beautiful environment. They said that they would definitely attend our future events. One guest shared that this presentation on such an important topic, "How to Avoid Cataclysms," should be shown to a very large audience. Our hearts were connected as we pondered the Messages of the Ascended Masters and watched a few of the amazing Sirius videos. We were reminded how much Love, mercy, and compassion the Ascended Masters grant us through their help.

Every Message contains the energy of the Master who gave the Message. At this busy time of year around the holidays, we encourage you to take a moment in a quiet space where you will not be interrupted or distracted, and read one of the Dictations. Then, close your eyes and focus on your breathing. Allow the Divine energy to penetrate through you and saturate the space around you. Enjoy a few minutes of Peace.

We thank God, the Ascended Masters, and our beloved Teacher Tatyana N. Mickushina for this opportunity and the happiness of Service for common good. We also thank our like-minded friends for their help and support.

Wishing you a very Merry Christmas, joyful holidays, and a peaceful New Year!
God bless you!

With Love,
Jean,
Lina