IV



Work in the Community

Short Rosary

(composed form the book "Agni Yoga. Community")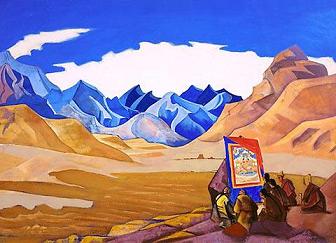 AUM TAT SAT. AUM
We are dissipating superstition, ignorance and fear. We are forging courage, will and knowledge.

Every striving toward enlightenment is welcome. Every prejudice, caused by ignorance, is exposed.

Thou who dost toil, are not alive in thy consciousness the roots of cooperation and community?

If this flame has already illumined thy brain, adopt the signs of the Teaching of Our mountains.

Thou who dost labor, do not become wearied puzzling over certain expressions.

Every line is the highest measure of simplicity.

Greeting to workers and seekers!
AUM TAT SAT. AUM
1. Our feeling is one of absence of specialty, because We live for the whole complex of life. Every specialist approaching Us inevitably loses his monochromatic eye-glasses. Therefore, make every effort that the specialty should become but one of the dishes at your table. As birds over the Earth, as bees above all the flowers, we can embrace the entire universe. (14)[1]
AUM
2. The structure of the community loves intensity. One can observe how intensity is of assistance during various manifestations. Even a simple tenseness of the body reinforces elementary manifestations. Not only overburdening of the nerve centers but also muscular contractions create a strengthened emanation of feelings. Not sitting in calm comfort, but distending one's limbs in toil will produce a saturation of energy. But indeed bodily tension is only for the most elementary manifestations; tension of the brain centers is needed. Continual intenseness will be the best. (155)
AUM
3. Let us give you a picture of Our Community. Our resources are intensified for the Common Good. Everyone works in full readiness. Our wireless communication has brought an urgent appeal—personal action is needed. The elect council designates an executive agent. Sometimes the agent knows the whole process of the talk, but sometimes he is given only an intermediate action. Often there is time enough only for choosing the necessary clothing, and perhaps a book which has just been started goes into the library unread. Often the duration of the commission is indeterminate. Often the results of the errand are not to be seen. What then induces the selected one joyfully to take himself off? What helps him to hasten into the cold and over the blocks of ice? What sort of order can evoke this strenuous labor? This jubilant readiness grows from habitual watchfulness. (155)
AUM
4. When I advise you to develop intenseness and vigilance, I do not speak for the purpose of burdening you. My counsels foresee exultation as a final result. Those who fear intense labor are afraid of the forms and laws of energy. Let them proceed formlessly toward the decomposing moons. Let them supplement with their own dissolution that which is subject to fundamental re-formation.
Know how to foresee the jubilation! (155)
AUM
5. Whether I am hurrying on or motionless, still I am striving. Whether I am learning or giving out knowledge, still I am striving. Whether alone or in a crowd, still I am striving.
How to intensify striving? Where are its roots and conditions? About quality of labor and action you have already heard. These are the conditions; full overburdening and the realization of the insecurity of life. Overburdening sets the body in the direction of tension. Realization of the danger of each hour of life will provide sensitivity and the knowledge of irrevocability. (180)
AUM
6. What to consider a manifestation of work is a difficult question. We know that the answer is in the quality, and not in volume and quantity. But new people often do not see the quality, and for them the sign of external volume overshadows the substance. Because of light-mindedness they are occupied with blowing bubbles, and then take the rainbow of decomposition for the light of illumination. Even sufficiently experienced minds are busying themselves with mechanical calculations instead of confronting the substance. How to tell them that only quality will illumine and affirm them? Distinguish great works from corpses. (185)
AUM
7. Often the community is accused of doing violence to the freedom of individuality. This charge is applicable to any compromise state but not to the community. In a conscious community there is a place for every labor. Each one may select his task at will, for every labor is sharpened by new attainments. There is not the tedium of mechanical performance, for the worker is at the same time an experimenter. He understands the significance of the problem of introducing perfectionment of work without disturbing the general complex of rhythm. (202)
AUM
8. Let us cite the example of Our Community. Our Friend, the chemist V., wishes to occupy himself with a new analysis of rays—no one prevents him. Our Friend K. wishes to improve the radio by applying new light waves—no one hinders him. Our Sister P. is occupied with the social problem of a neighboring country—no one interferes with her. Our Sister U. is occupied with agriculture and introduces many adaptations—no one hinders her. Sister O. loves medicinal plants and problems of education—no one hampers her. Brother H. has devised a remarkable loom, and also works on the reorganization of communities. Brother M. is occupied with historical researches. Our shoemaker writes remarkable philosophical treatises. Each one decisively finds work to suit Himself and can change it at will. Thus, necessary is both the desire to work and the open consciousness through which each labor becomes attractive. For the labor is performed for the future, and each one carries his best stone. Here and now before the face of the mountains, We are speaking for the future. And you shall transmit these words to the valley dwellers, and once again they will remember about the possibility of the existence of the Community. (202)
AUM
9. It has been repeated again and again—know how to find joy in eternal labor and in eternal vigilance. You have heard music and singing in Our Community. These must be looked upon as a part of the labor. Usually, under the influence of sounds people fall into psychic inaction and are even incapable of creating forms. This results from the custom of understanding repose as torpor. One can become accustomed to making use of art as a condensation of forces. A work of beauty can produce not only a heightening of activity but also a sharpening of forces. But one should accept this fact consciously and learn to make use of emanations of creativeness.
Could a structure of a community be conceived without crystals of sound and color? Verily, this would be a mole's hole! The bearers of sound and color must bring into the community an unspilled vessel. Knowledge and creativeness will be the Amrita of the Community. (224)
AUM
10. The cooperative is not a shop but a cultural institution. There may be also trade within it, but its basis must be one of enlightenment. Only along such lines is it possible to apply cooperation to the new life. Such unity is not easy; people have been accustomed to combining commerce with cupidity. Such an error is difficult to eradicate. But undeferrably, by way of school education, should the significance of healthy exchanges be brought out. Earning money is not greediness. To receive wages for work is not a crime. One can see that labor is the one just value. Thus, without agitations and confusion it is possible to expound everything under the banner of Enlightenment and Peace. (271)
AUM
AUM TAT SAT. AUM
---
[1] The number of the paragraph, taken from the book "Agni Yoga. Community", has been indicated in circle brackets after each paragraph.